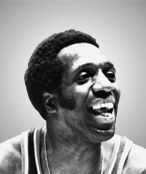 Meadowlark Lemon
Few athletes have impacted their sport on a worldwide level more than Meadowlark Lemon. Perhaps the most well-known and beloved member of the Harlem Globetrotters, Lemon played in more than 16,000 games – 7,500 consecutively – for the Globetrotters in a career that began in 1954 and lasted until 1978. Known as the "Clown Prince of Basketball," Lemon's favored "can't miss" halfcourt hookshot and comedic routines entertained millions of fans in more than 70 countries around the globe. As a basketball performer, Lemon's goal was always the same – entertainment, laughter, and fun. Lemon, who performed before Popes and Presidents, also played with the Bucketeers (1980-83), Shooting Stars (1984-87), and the Meadowlark Lemon Harlem All-Stars (1988-98). He played 50 games for the Globetrotters in 1994. In 2000 he received the Basketball Hall of Fame's John Bunn Lifetime Achievement Award.
Born
April 25, 1932
Wilmington, NC
Contributor Stats
1998
JOHN BUNN
LIFETIME ACHIEVEMENT AWARD
WITH GLOBETROTTERS
2002
enshrined AS A MEMBER OF
GLOBETROTTERS TO
BASKETBALL HALL OF FAME
KNOWN
AS THE
"CLOWN PRINCE
OF BASKETBALL"
24
YEARS PLAYED AS A
GLOBETROTTER