Hours & Ticket Information
Please note that the hours of operation are subject to change. The Hall of Fame hosts many special events, which can close parts of the Museum. Click here for a complete listing of special hours and early closings. 
CURRENT HOURS
Monday:  CLOSED
Tuesday:  CLOSED
Wednesday:  10am - 4pm
Thursday:  10am - 4pm
Friday:  10am - 4pm
Saturday:  9am - 4pm
Sunday:  10am - 4pm
Starting on Monday October 19th, the Hall of Fame will be closed on Mondays & Tuesdays.  Wednesday through Sunday hours will remain the same.
***CLOSED
Thanksgiving  11/26/20
Christmas Eve  12/24/20
Christmas   12/25/20
Please check back for upcoming Winter hours!
Have questions? Call 1-877-4HOOPLA
(1-877-446-6752)
for more information
PLEASE NOTE:  Be sure to visit our COVID-19 protocols page prior to your visit.  As a reminder, face coverings are currently mandatory to tour the museum.  Thank you for your understanding.
Adults $28.00 Ages 16 to 64
Seniors $23.00 Ages 65 and above
Youth $19.00 Ages 5 to 15
Student $23.00 Must show a current High School or College ID at the box office.
Children Under 5 FREE!

Hall Pass

The Hall Pass gives you free daily admission for an entire year.
Learn more
For a limited time, we are offering a special discount!
One Year $79.00  Adult
One Year $49.00 Youth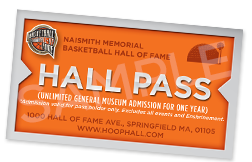 Military AND FIRST RESPONDER Discount
THANK YOU FOR ALL THAT YOU DO!
All active and retired military personnel along with all First Responders are FREE
(Must show service identification card)
Accompanied Spouse – $15.00
Accompanied Children – $10.00

* Please note: discounts cannot be combined.
MTA Discount (Massachusetts' Teachers Association)
$23.00
(Must Present Card)
As a friendly reminder, please note the following:
Food and beverage are not allowed inside of the museum. All food and beverage must be consumed on the public concourse or in one of the many on site restaurants.
Backpacks and any large bags are not permitted inside of the museum unless noted for a medical reason. 
If you wish to participate in shooting on Center Court, please wear appropriate footwear. Also, games of any kind and half court shots are not allowed for everyone's safety.
Hours of Operation