The Mannie Jackson - Basketball's Human Spirit Award
The award is given annually to an individual who has found the game of basketball to be a contributing aspect to their personal growth and accomplishment, a place to develop an understanding of others, and an avenue that helped shape that individual's growth into a recognized visionary and leader.
Jackson Award recipients embrace the core values of the game: hard-work, striving to improve and a commitment to others. Beyond the game they reflect the values of Mannie Jackson's life-long mission to overcome obstacles; challenge the status quo, take responsibility for his or her actions while seeking the highest standard of excellence. It's a commitment that transcends personal reward and constantly challenges the human spirit.
In their community, this person is a recognized leader and catalyst for change. Ultimately, they are singular individuals who lead by example, demonstrating a philosophy of respectfulness, teamwork, commitment, and human compassion in all aspects of their lives.
2021 Award Winners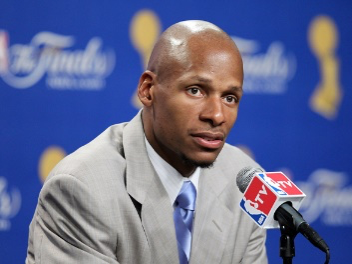 Ray Allen

Since 1997, Ray Allen's "Ray of Hope Foundation" has been offering hope to children in underserved and under resourced communities. The foundation aims to provide opportunity, education, and knowledge, while bolstering self-worth and imagination. In 2011, Ray of Hope launched an ambitious initiative to help level the playing field in the digital sector by building and refurbishing computer labs. New flat-screen monitors, desktop computers designed to handle the modern needs of students, and the proper learning environment are all part of the program. The Ray of Hope Foundation has partnered with nearly 50 organizations over the past 25 years and more than a dozen computer labs from Boston to Miami have welcomed Ray and his message of hope into schools.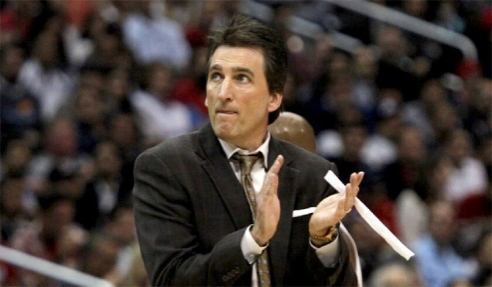 Vinny Del Negro
As a player, coach, executive and broadcaster, Vinny Del Negro is now over 30 years into his professional career. While his role has changed, one constant in his life of basketball has been giving back - to players, kids and his hometown. A native of Springfield, Mass. where basketball was invented by Dr. James Naismith, Del Negro established the Vinny Del Negro Endowment Fund in 1991 to help support Brightside for Families & Children, a local organization dedicated to healing and transforming the lives of youths and families. In 1999, then Governor of Massachusetts Paul Cellucci honored Del Negro with its Service Award, and in 1994, USA WEEKEND recognized Vinny as one of five professional athletes to receive the Most Caring Athlete Award.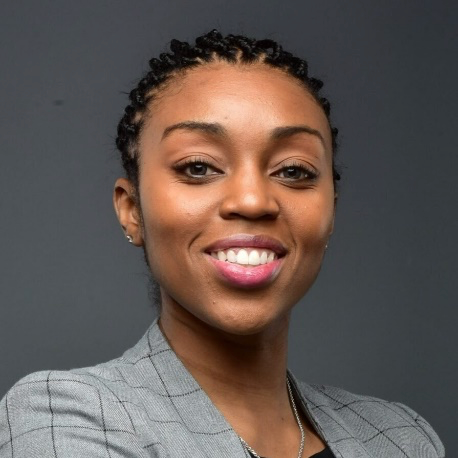 Renee Montgomery
Two-time WNBA champion and NCAA National Champion Renee Montgomery is recognized as a leader among professional athletes when it comes to social justice and standing up for what she believes. She started the Renee Montgomery Foundation in 2019, which focuses on initiatives such as "The Last Yard" - a partnership with Morris Brown College in Atlanta that helps students with financial assistance needed to complete a school year or finish coursework to graduate and "Remember The 3rd" - a non-partisan effort that aims to amplify the role of social media to inform, educate, and motivate all citizens to vote. Her "Moments Equal Momentum" philosophy means assisting and educating all walks of life while recognizing the importance and opportunity of every moment.
---
2020 Award Winners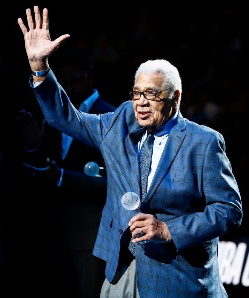 Wayne Embry
Wayne Embry is a revolutionary sports executive, as the first Black General Manager in the NBA with the Milwaukee Bucks in 1972 and the first Black President of any professional sports team. He has been a prominent community activist and mentor in each city where he has lived and worked, while also serving as a board member and leader to numerous non-profits, including the Naismith Memorial Basketball Hall of Fame, Miami University and USA Basketball. Embry has been honored with Miami University's Distinguished Achievement Medal (2001), the Ohio Heritage Award for his contributions to the state (2013) and the Toronto Raptors' Wayne Embry Fellowship Program. Embry has been inducted into the Naismith Memorial Basketball Hall of Fame (1999), the Ohio College Basketball Hall of Fame (2006) and the Cleveland Sports Hall of Fame (2013).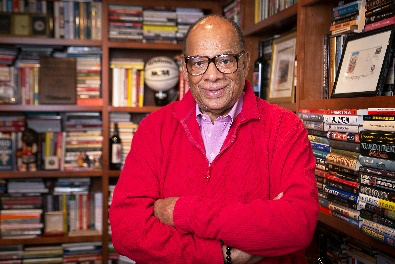 George Raveling
George Raveling is a civil rights pioneer dating back to the day he stood on the steps next to Dr. Martin Luther King Jr. during his famous "I Have a Dream" speech. Raveling was the first Black coach hired by the Atlantic Coast Conference and the first Black head coach in the Pac 12. He is a vocal advocate for the Black Coaches Association and a tremendous mentor to many administrators, coaches and players. For more than 20 years, he has served as Nike's Global Ambassador for the game, while also serving on the boards of USA Basketball, the NABC, the NCAA and the Basketball Hall of Fame's Board of Governors. Raveling has been inducted into the College Basketball Hall of Fame (2013) and the Naismith Memorial Basketball Hall of Fame (2015), as well as the Washington State, Commonwealth of Pennsylvania, Villanova and Black Coaches Association Halls of Fame.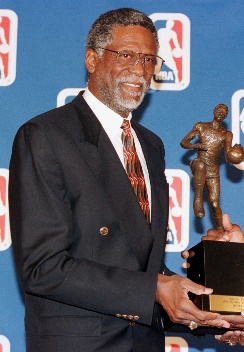 Bill Russell
Bill Russell led the Boston Celtics to 11 NBA championships, and while his athletic achievements are astonishing, he has also been a prominent civil rights activist for more than half a century. As both a player and coach, he experienced countless racial injustices including segregation and mistreatment rooted in bigotry. He has always been vocal about his experiences and in 1963 he participated in the March on Washington. In 1966, he became the first Black head coach in major professional sports and in 1968 he became the first Black head coach to win an NBA championship. Russell is a recipient of the NBA's National Civil Rights Museum Sports Legacy Award (2006) and the ESPY's Arthur Ashe Courage Award (2019). Russell has been inducted into the College Basketball Hall of Fame (2006) and the Naismith Memorial Basketball Hall of Fame (1975). In 2010, President Obama awarded Russell the highest civilian honor, The Presidential Medal of Freedom.
---
2019 Award Winners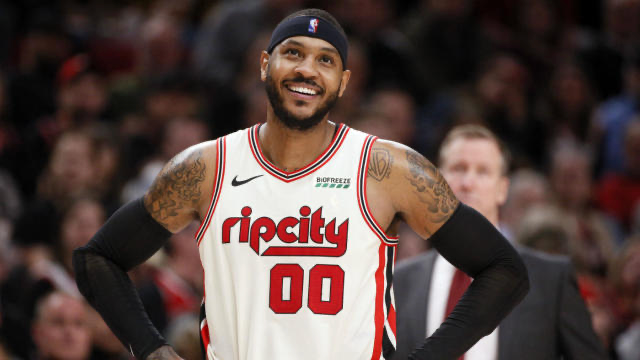 Carmelo Anthony
A nine-time NBA All-Star, three-time Olympic gold medalist, Carmelo Anthony has committed his time and resources to positively impact his hometown of Baltimore, Maryland. In 2006, he helped fund the revitalization of a local community center for local youth and opened The Carmelo Anthony Youth Development Center. Additionally, Anthony has contributed $1.5 million to the Living Classrooms Foundation, a non-profit organization that provides innovative hands-on-education, job-training and community service programs for over 35,000 children, youth, and young adults in the East Baltimore community. On a national scale, Anthony has taken an active role in the wake of violence between police and African-Americans by organizing and delivering a powerful speech on the ESPYS stage denouncing all forms of violence. He continued this activism by marching with protestors of police brutality and organizing a townhall forum in Los Angeles that brought together black and Latino teenagers with local police officers. His continued efforts towards unity have inspired friends and teammates to also get involved. Recently, Anthony pledged 3 million dollars to his alma mater, Syracuse University, for the development of a new basketball practice facility.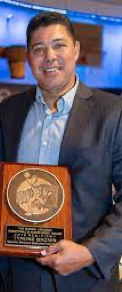 Tyrone Brown
TyRone "Hollywood" Brown's unique ability to turn life lessons into life's blessings has given him a unique perspective on helping others. Brown is recognized as a talented member of the Harlem Globetrotters, but his social impact far exceeds what he has accomplished on the court. Brown is currently a literacy and character educational speaker for school districts, corporations and nonprofits across the United States and Canada. As a children's author himself, the National Education Association commissioned him as their reading and literacy spokesperson for three consecutive years. In 2017, he started the Ambassadors of Responsibility Foundation to enable former teammates to better serve elementary and middle school students across the country. The foundation is a conduit to fight, and ultimately eradicate, illiteracy via books and school-wide enrichment programs. To that end, Brown visits 100 schools per year and delivers books to students at failing or underperforming schools. Brown credits his success to perseverance, as told in his children's book called "A Piece of Paper."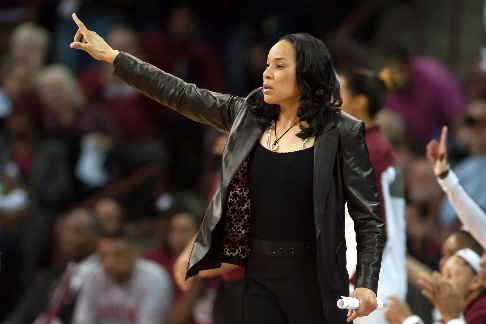 Dawn Staley
Dawn Staley has cemented her legacy in basketball as a three-time Olympic Gold medalist, six-time WNBA All-Star and one of the league's Top 15 Players of All-Time. Off the court, she has found purpose in helping those in need. In 1996, she founded the Dawn Staley Foundation to provide a multi-faceted academic, athletic, and community program to empower middle school girls. In addition to her personal foundation, she also co-founded INNERSOLE to provide new sneakers to homeless and children in low-income households. Staley's commitment to the community has earned her many accolades including the Red Cross Spectrum Award, Henry P. Iba Citizenship Award and South Carolina's highest civilian honor for achievement and service to the state. Since 2007, the WNBA has presented a community leadership award bearing her name. Staley is currently the head coach for University of South Carolina Women's Basketball, where she led her team to a national championship in 2017. Staley's constant focus on the betterment of herself, her team and her community continues to inspire others.
---
2018 Award Winners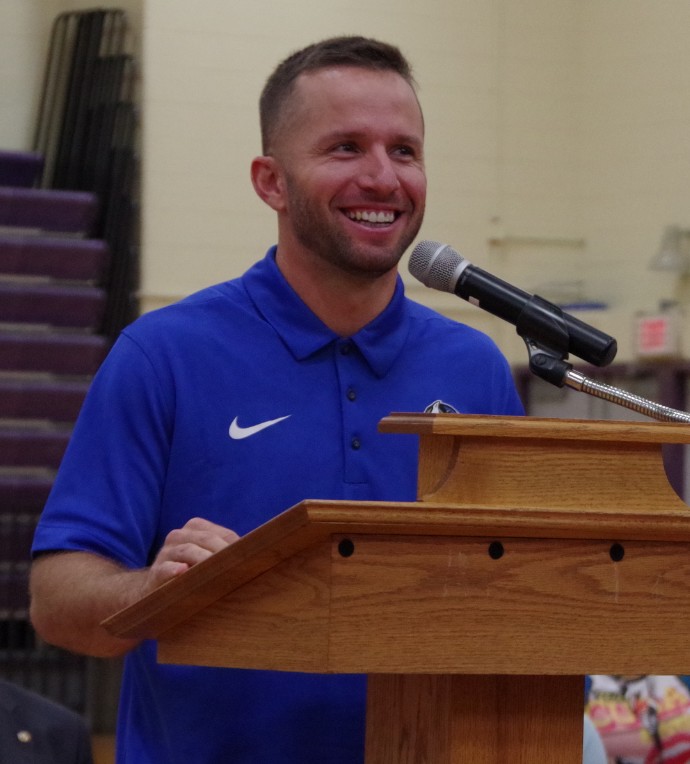 J.J. Barea

J.J. Barea is one of the smallest players in the NBA with unquestionably one of the biggest hearts.  He was recently awarded the J. Walter kennedy citizenship award in large part due to the tireless work he puts into his JJ Barea foundation.  Barea's swift and sustained response to disaster relief efforts in puerto rico following hurricane Maria were impactful.  Barea borrowed the Dallas Mavericks' team plane for five trips to his home country delivering food, clothing, water, medical supplies and generators.  He personally raised nearly 500-thousand dollars for families affected by the hurricane.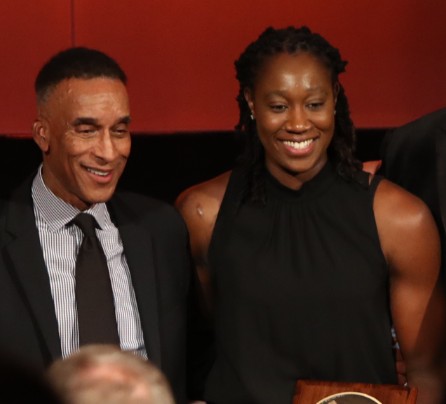 Tina Charles
Tina Charles of the New York Liberty is a six-time WNBA all-star who has made it her personal mission to help those in need.  In 2013, Tina lost her beloved aunt Hopey to multiple organ failure.  That same year she established Hopey's Heart Foundation to provide health education, CPR training and heart defibrillators to schools, communities and recreation centers.  Her goal is to donate 100 of these life-saving devices every year.  In addition,  she has helped construct a school and funded scholarships through "Connect to Learn", a global initiative dedicated to educate children in impoverished areas.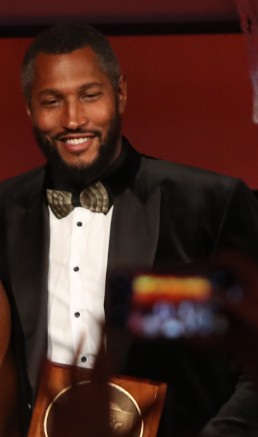 Boris Diaw 
14-year nba veteran Boris Diaw has won the NBA most improved player award and an NBA championship.  He is one of the most unique personalities in the game and is dedicated to helping young people all over the world.  Diaw, whose father was born in senegal, leads a delegation of basketball players each summer to that country and Peru, helping those countries which grossly underfund training for children.  Diaw has also founded a "Seed Acadamy" in 2013, giving young girls in senegal higher quality sports programs.  Diaw's foundation also supports an orphanage, a hospital and camps for children battling cancer.
---
2017 Award Winners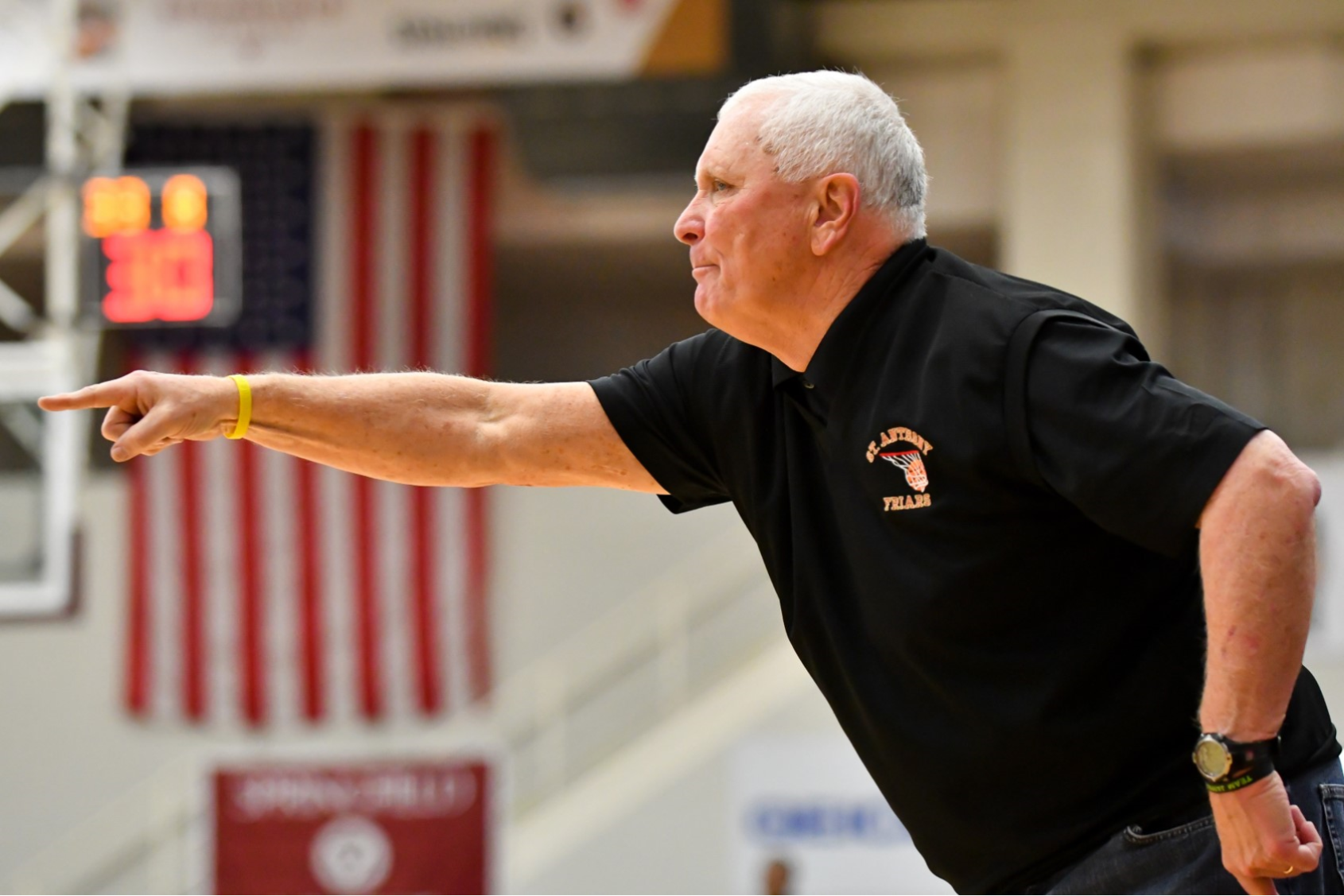 Bob Hurley 
Former President of St. Anthony High School, having guided, mentored, and coached students, student-athletes, faculty and parents alike for over 40 years, Hurley  began his role of varsity basketball coach in 1972. With his leadership, every St. Anthony's graduate in the past 21 years has been accepted to college. A Jersey City native, Hurley is a highly motivated and involved, community-oriented leader and will now lead The Hurley Family Foundation. He worked as a Hudson County Probation Officer for 28 years receiving numerous awards and retired from Probation in 2001. He then moved to the position of Director of Recreational Services for Jersey City and retired in 2008. As someone who recognizes and values the influence a coach can have on athletes off the court, Hurley has also had tremendous success with his teams on the court through the decades. Hurley is currently ranked third for the most wins in boys' high school basketball history with a record of 1162-119, including eight undefeated seasons and four National titles.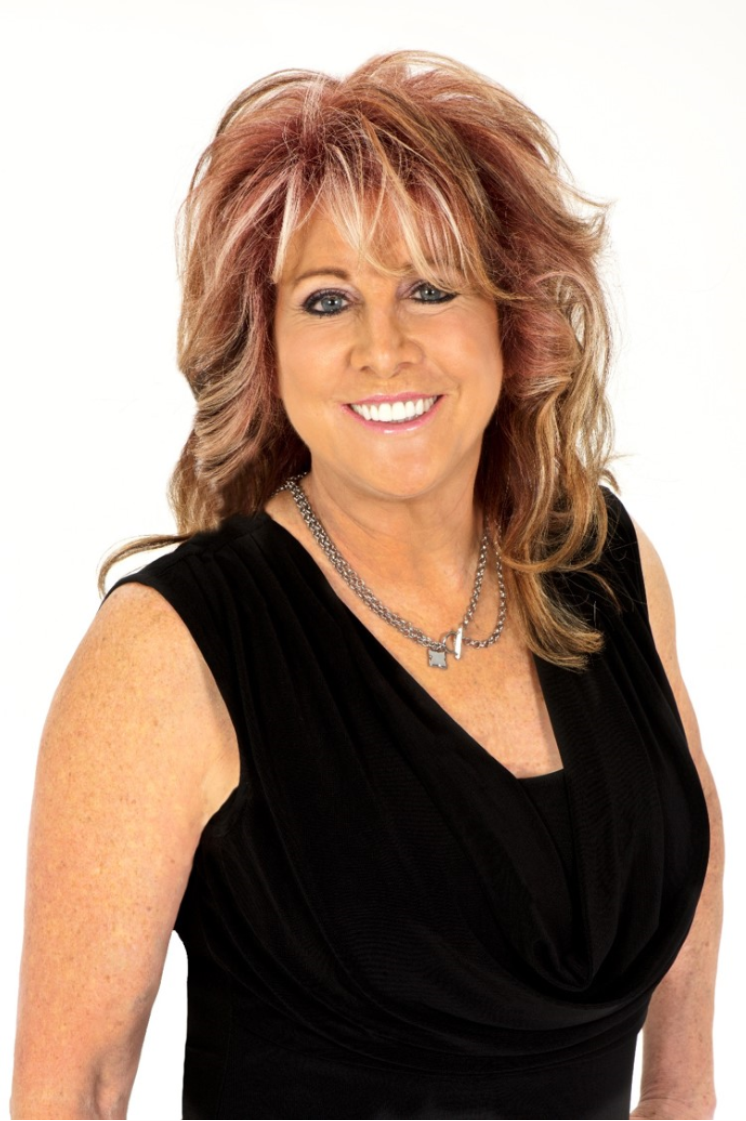 Nancy Lieberman 
As the youngest basketball player in Olympic history to win a medal and first woman to coach a men's professional basketball team as part of the NBA D-League, Nancy Lieberman has continually broken barriers and overcome the odds. Nancy Lieberman Charities is committed to helping others do the same by promoting healthy lifestyles and developing educational opportunities for economically disadvantaged youth. Since its inception, Nancy Lieberman Charities has served over 3 million children through a variety of programs including college scholarships, laptop and school supply giveaways, and basketball court and playground installations. Over the past 36 years, an additional 4 million children have participated in Nancy Lieberman basketball camps and clinics as well.  Nancy Lieberman Charities has led the charge in the development and construction of Dream Courts TM with over thirty across the country in underprivileged communities and neighborhoods.  The Courts make basketball more accessible to kids in a safe area where they receive physical fitness, social interaction, participate in free clinics and learn important lessons about teamwork and sportsmanship. In 2016, Lieberman created Kids & Cops Dream Courts, as a means to foster positive relationships between youth and Police Departments, starting with 12 courts and clinics in the Dallas area.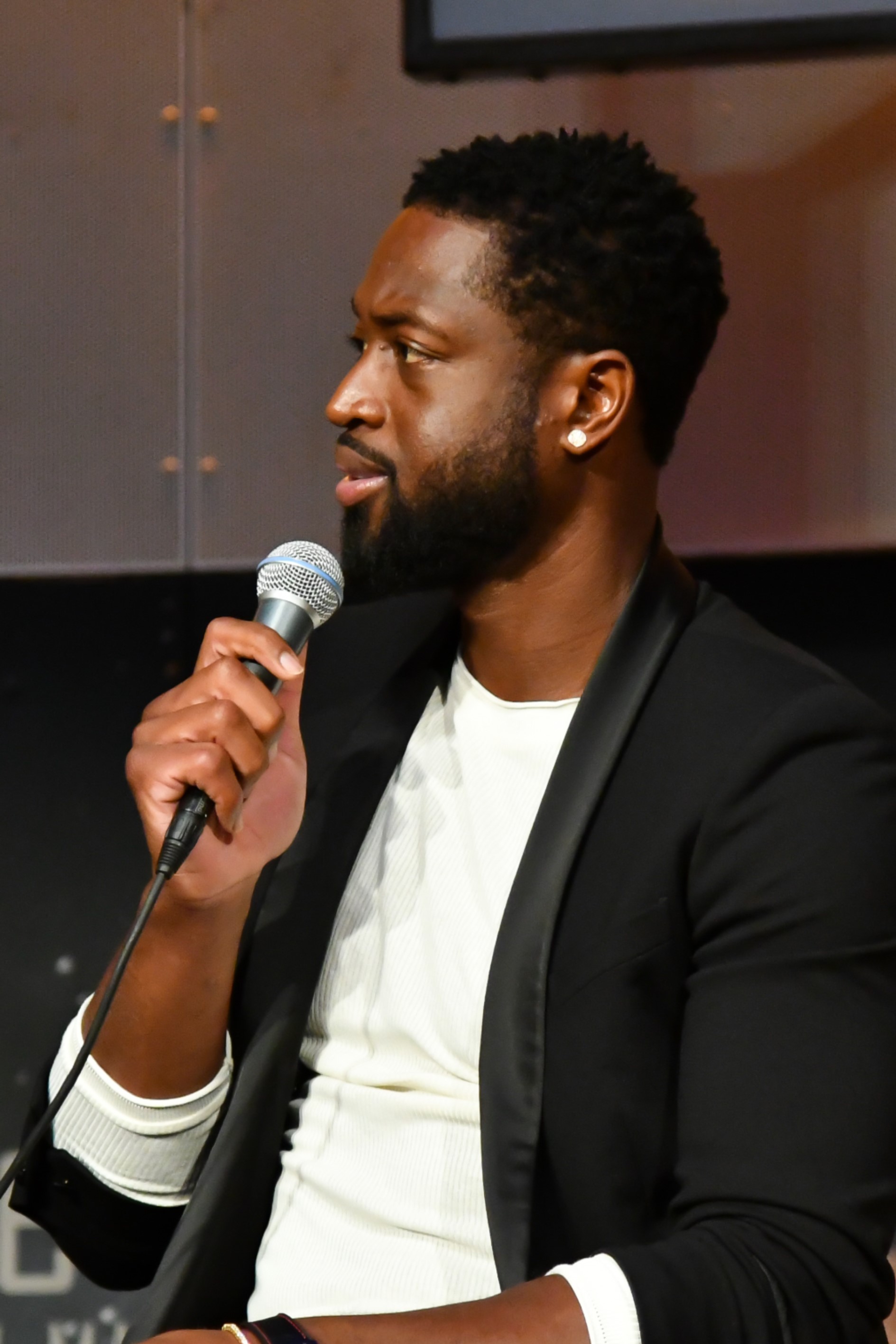 Dwyane Wade 
Understanding that his life is bigger than basketball, three-time NBA champion  Dwyane Wade and his family established the Wade's World Foundation in 2003, a nonprofit charity organization dedicated to giving back to at-risk communities of Chicago, Milwaukee, and the South Florida region. The foundation is dedicated to providing opportunities that enable children to overcome challenges, excel academically and reach their maximum potential while focusing on the initiatives of literacy, health and fatherhood. With a personal goal to give every child a shot at life, Dwyane and WWF support a variety of programs including literacy initiatives, youth basketball clinics, court refurbishments and holiday giving. Wade and his foundation have received numerous awards over the past 14 years including the NBA Cares season-long Kia Community Assist Award in 2013 and the BET Humanitarian Award.
---
2016 Award Winners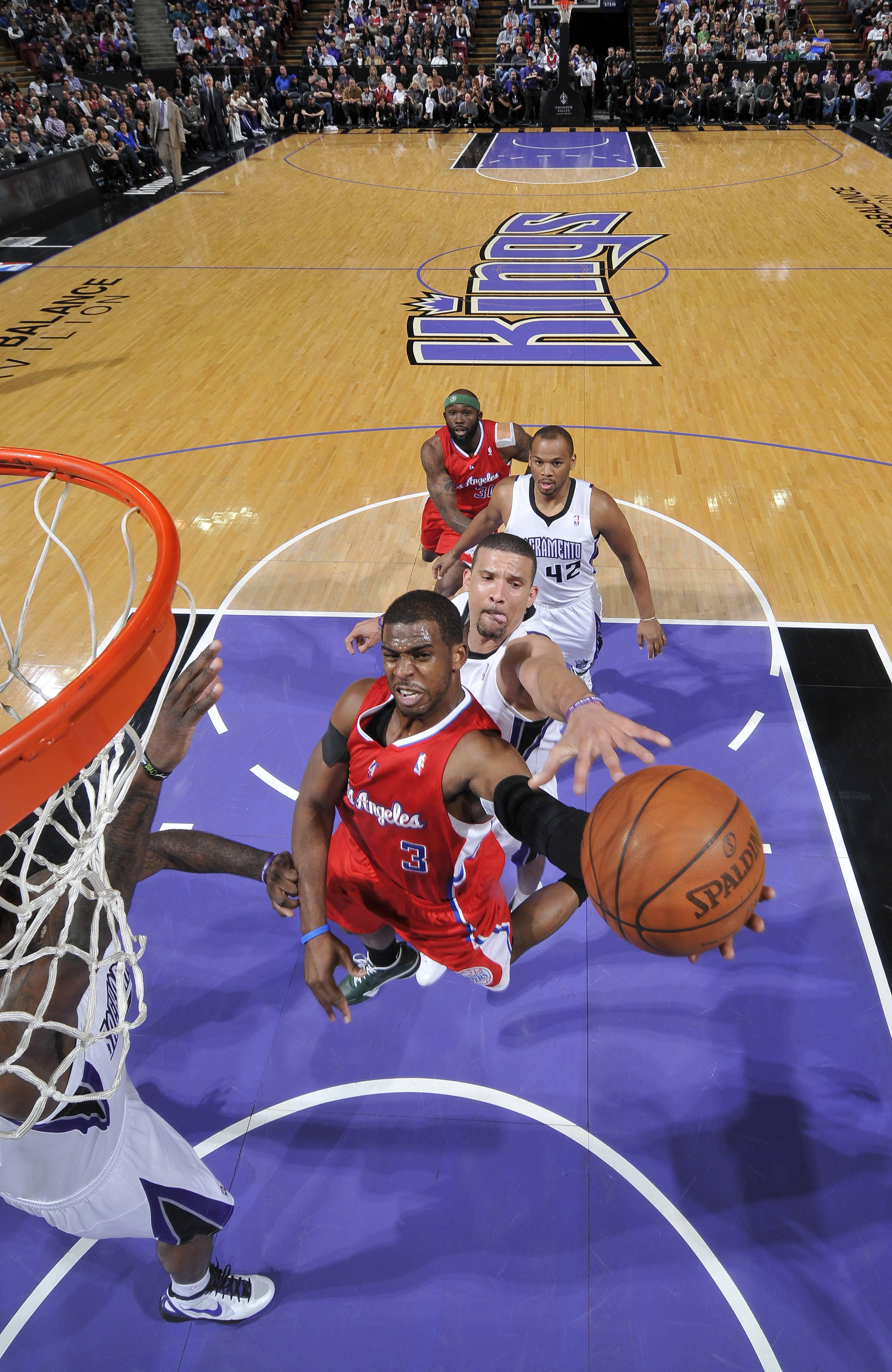 Chris Paul
Wake Forest All-American, two-time Olympic gold medalist and 9-time NBA All-Star, Chris Paul, has excelled at every level of the game. In 2005, Paul established the CP3 Foundation, which has evolved into the Chris Paul Family Foundation. Alongside his family members, Paul strives to positively impact individuals and families by leveling the playing field in education, sports and life. The Chris Paul Family Foundation focuses on enriching the communities of Winston-Salem, New Orleans and Los Angeles through initiatives including literacy, holiday giving, emergency preparedness, prom dress giveaways, youth basketball clinics and court refurbishments. Additional initiatives include partnerships with the Salvation Army, Feed The Children and Make-A-Wish Foundation among other nonprofit organizations. Paul and his wife have also committed to funding SOS Children's Villages in Africa and gifting two annual scholarships to Wake Forest University in honor of his late grandfather. Paul has served as the President of the National Basketball Players Association since 2013 and won the NBA's Community Assist Award three times, an annual award given to an NBA player that consistently shows passion for philanthropy and community service.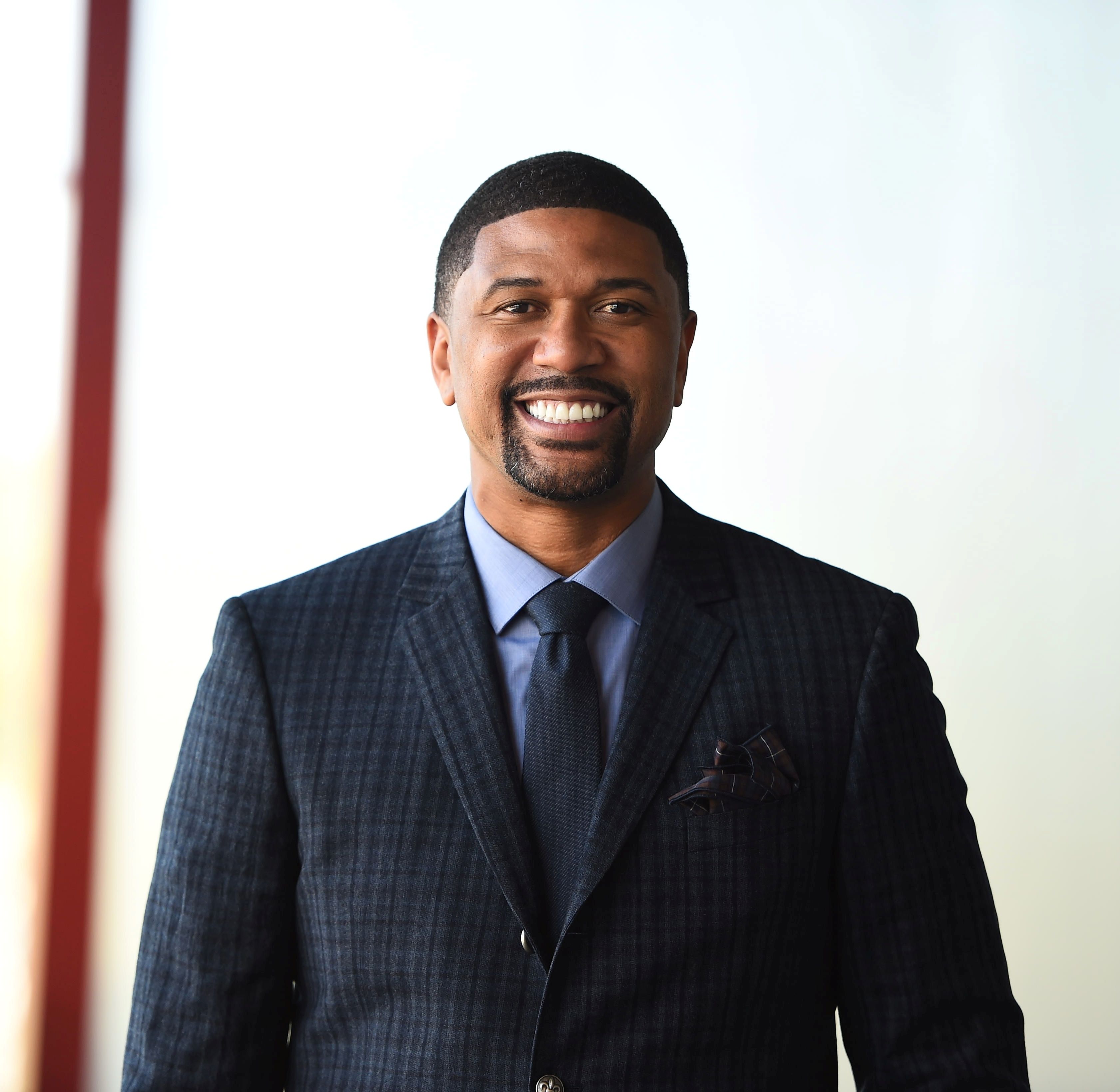 Jalen Rose
Michigan "Fab Five" member, 13-year NBA veteran and ABC/ESPN basketball analyst since 2007, Jalen Rose has never wavered in his love and support for his hometown of Detroit, Michigan. In 2000, he established the Jalen Rose Foundation to create life-changing opportunities for underserved youth through unique programs and the distribution of grants to qualified nonprofit organizations. Grants focus on education and sports and are distributed in Detroit, as well as other communities in need. In 2003, the Jalen Rose Foundation made a substantial gift to the University of Michigan to endow a scholarship for an incoming freshman with special consideration for students who come from the state of Michigan and either resides in an inner-city area or is a member of an underrepresented group. In 2011, Rose founded the Jalen Rose Leadership Academy (JRLA), a tuition free, public charter high school in Detroit. JRLA serves over 400 ninth through twelfth grade students and graduated its inaugural class in June 2015 with one hundred percent of the graduating class gaining college, trade/technical school or military acceptance. Rose has received many awards for his humanitarian efforts including the Detroit News Michiganian of the Year.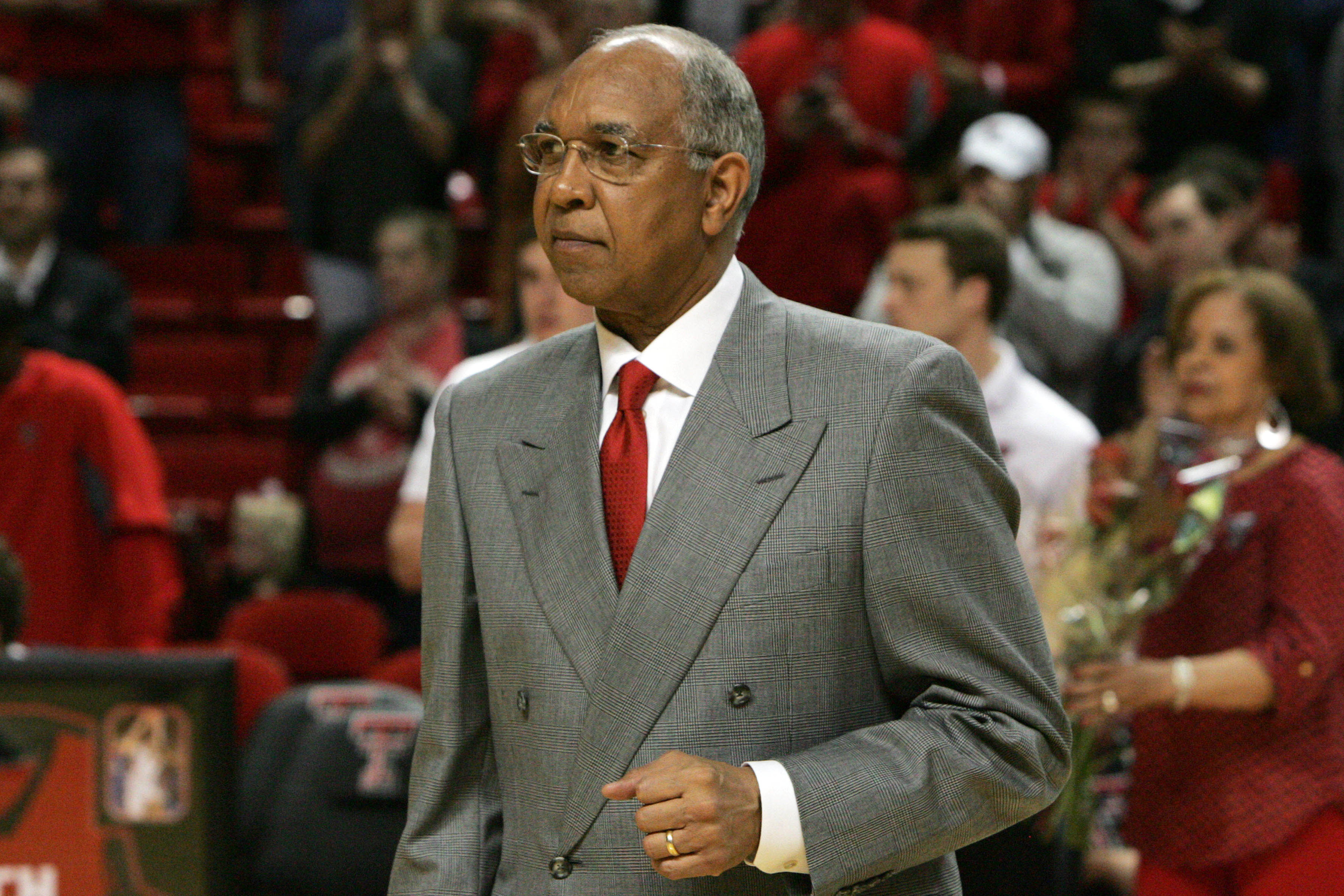 Tubby Smith
University of Memphis Head Coach, NCAA Champion and the 2003 Naismith Coach of the Year, Tubby Smith, is one of the most respected coaches in the game. He is just one of two coaches to lead five different schools to the NCAA tournament and in 2016 he earned the John R. Wooden Legends of Coaching Award. The annual award recognizes the lifetime achievement of coaches who exemplify Coach Wooden's high standards of coaching success and personal integrity including character, success rate on the court, graduating rate of student-athletes and coaching philosophy. In 1998, Smith and his wife established the Tubby Smith Foundation in Kentucky and raised more than $1.5 million in the first five years. The Foundation has followed Smith on his coaching journey and had a positive impact in several communities by funding youth initiatives such as playgrounds, children's hospitals, schools and youth camps and more.
---

2015 Award Winners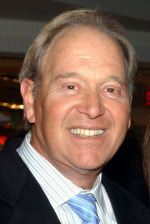 Paul Fireman
Massachusetts native, Paul Fireman, served as the Chairman & CEO of Reebok International for 26 years and is well known in the athletic community as a champion of human rights. In 1986, Reebok became one of the first companies to pull out of South Africa because of the country's practice of apartheid and two years later Reebok International sponsored the Amnesty International Human Rights Now tour. Fireman and his wife founded 'The Paul and Phyllis Fireman Foundation' in 1985, which focuses on ending family homelessness in Massachusetts. Through their foundation, they have developed One Family Inc., which advances the vision of ending homelessness by operating a scholarship program for formerly homeless and at-risk women. To promote permanent solutions to homelessness, the Foundation has joined with other donors to create Home Funders, a collaborative fund that finances very affordable rental housing for low-income families in Massachusetts.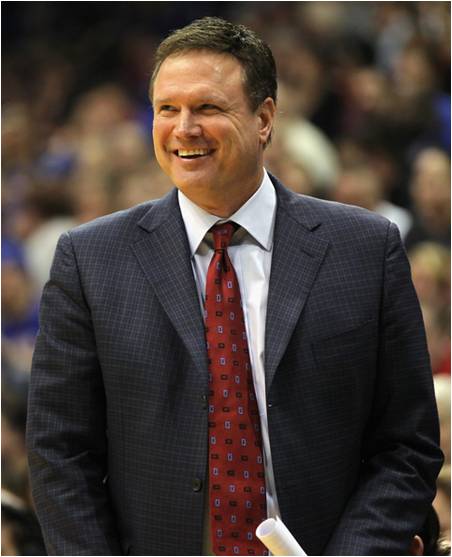 Bill Self
University of Kansas Head Coach and the 2012 Naismith Coach of the Year, Bill Self, is one of the most respected coaches in the game. In 2006, he and his wife established 'Assists Foundation' to function as a fundraising conduit for organizations that serve a variety of youth initiatives in Lawrence and the surrounding area. Assists has helped fund programs such as Kansas Action for Healthy Kids, Lawrence Public Library, Boys and Girls Clubs of Lawrence, Kansas Youth Empowerment Academy, Ronald McDonald House Charities of Northeast Kansas and Head Start of Lawrence, among many others. The Assists Foundation has also helped create a program called 'Winning Attitudes for Life' within the school system for elementary through high school students to promote healthy living, physical fitness, positive well-being and self respect. The program helps students develop their leadership, team building, decision-making and communication skills.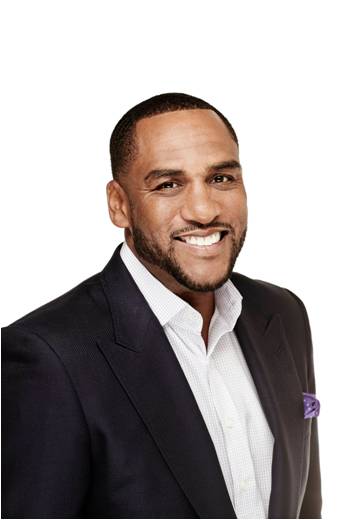 Steve Smith
Michigan State University All-American, Olympic gold medalist and NBA TV analyst, Steve Smith, has excelled at every level of the game. In 1997, Smith gifted $2,500,000 to his alma mater to help fund the Clara Bell Smith Student Athlete Academic Center, which is named for his mother, who died of cancer during his NBA rookie season. He also established 'The Steve Smith Charitable Fund' and with a subsequent donation, fully endowed a four-year academic scholarship program that is awarded annually to one student from his former high school. The Steve Smith Charitable Fund also supports local charities in Detroit, Lansing, Grand Rapids and Kalamazoo, as well as in Atlanta, Georgia. Smith is currently a member of the Nsoro Foundation, a non-profit dedicated to enriching the lives of foster children and serves on the Hughes Spaulding – Children's Healthcare of Atlanta Community Board, which is the largest clinical care provider for children in the country.
---
2014 Award Winners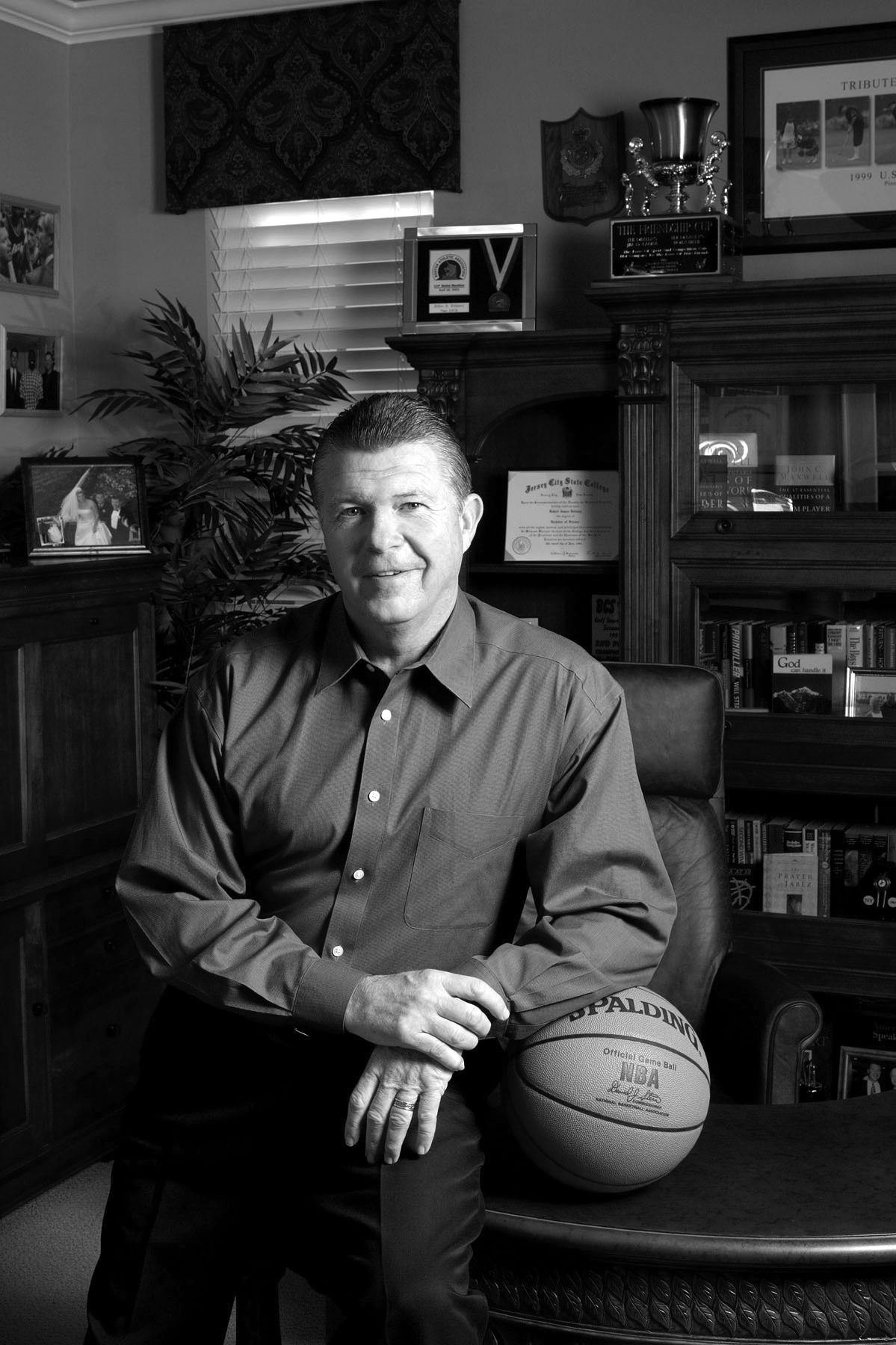 Bob Delaney
Former NBA referee crew chief Delaney served as one of the league's most respected officials for twenty-four seasons. His tireless and ground breaking work with Post-Traumatic Stress providing education and awareness for military, law enforcement, firefighters, first responders and their families has gained international recognition. In 2011, Delaney was recruited by Commissioner David Stern to be an NBA Cares Ambassador to further share the PTS message.
Robert L. Johnson
Johnson currently serves as the Charlotte Bobcats Governor to the NBA. Since selling the Bobcats in 2010 to MJ Basketball Holdings, LLC, Johnson has retained a minority ownership interest in the team. Having co-founded Black Entertainment Television (BET) in 1979 and serving as BET's Chairman and CEO, Johnson became the first African-American billionaire. Johnson's philanthropic contributions have been local and global; including significant contributions towards the building of the West Boulevard YMCA in Charlotte and raised funds for hurricane preparedness for the Bahamas. Johnson created a clothing line to raise money to benefit Africa through Malaria No More and created the Liberia Enterprise Fund with a $30 million investment for Liberian entrepreneurs. In addition, Johnson is one of the Basketball Hall of Fame's Ambassadors of the Game, which is a giving program that helps the Hall of Fame enhance and solidify the values of the game -teamwork, competition, discipline, personal excellence and sportsmanship - for all those who love the game.
---
2013 Award Winners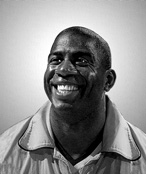 Representing the Professional game: 
Earvin "Magic" Johnson
Hall of Famer and 12-time NBA All-Star who created the Magic Johnson Foundation in 1991 in hopes of developing programs and support community based organizations. His community Empowerment Centers have impacted more than 200,000 kids, awarding over $3 million in hardware and software grants and awarded over $250,000 in online scholarships. Johnson has supported several charity groups including: Celebrity Fight Night Foundation, Charity Folks, Keep A Child Alive, The Miami Project and Buoniconti Fund to Cure Paralysis. Over the years he has been an advocate of AIDS/HIV research and has helped several causes including: at risk/disadvantaged youths, education and family/parent support. Johnson was inducted into the Basketball Hall of Fame in 2002.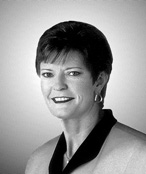 Representing the Amatuer ranks:
Pat Summitt
For nearly four decades, Summitt led the Tennessee Lady Vols program to 16 SEC Championships, eight NCAA titles and seven NCAA Coach of the Year awards. In August 2011, Summitt announced that she was battling with early onset dementia, "Alzheimer's type." She finished the 2011-12 season and in November, she revealed the formation of her foundation, the Pat Summitt Foundation Fund with the proceeds going toward cutting-edge research. The Huntington Post named Summitt a 2011 Game Changer – an innovator, leader and role model who is changing the way we look at the world and the way we live. President Barack Obama presented her on April 19, 2012 in the White House with the 2012 Presidential Medal of Freedom award. She was inducted into the Basketball Hall of Fame in 2000.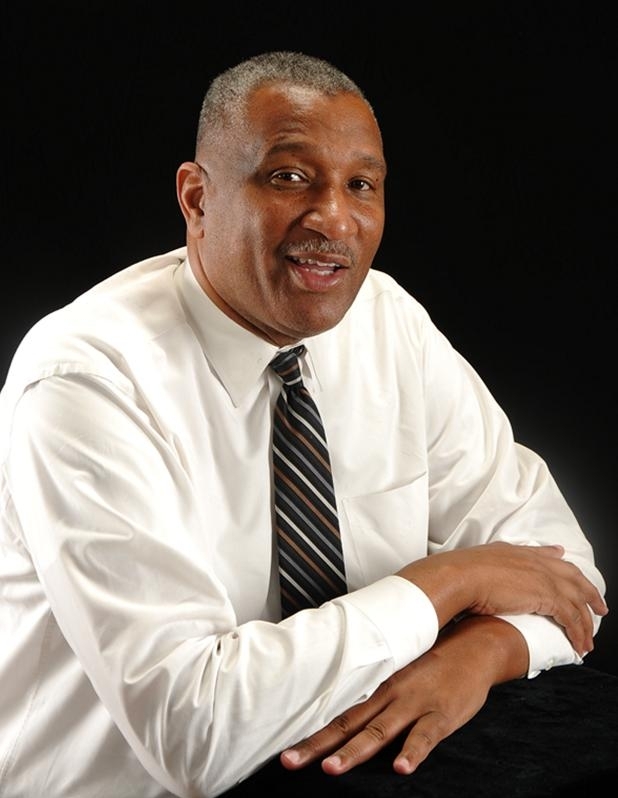 Representing the Grassroots ranks:
Boo Williams
Founded the Boo Williams Summer league in 1982, which is a Youth Basketball Organization in Hampton Roads region of Virginia. Williams has coached and mentored over 2,500 student athletes both male and female. He also helped fund and build the Boo Williams Sportsplex, which is a multi-purpose, eight court, sport facility that hosts several basketball games throughout the year. In 2001 he was named Walt Disney Wide World of Sports Volunteer of the year and he serves on the USA/ABA Cadet Committee for Development of Future Olympians.
---
2012 Award Winners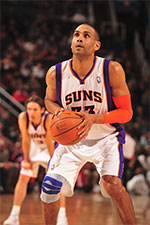 Representing the Professional game: 
Grant Hill
Los Angeles Clippers Guard - Known for his positive attitude, strong work ethic and high moral code, Hill has routinely left his mark in a number of cities where he played professionally. He lends his support not only to a variety of national issues but to local issues as well. Hill was recently awarded a key to the city of Reston, Virginia, where he was raised with the proceeds from that reception going to the Medical Care for Children Partnership, which provides medical services for needy children in the county. Hill also appeared on behalf of Foot Locker and Fila, at a Detroit middle school to kick-off a program designed to replace backboards in 250 area schools. In addition, GMC Trucks sponsored his visit to the Michigan Special Olympics Women's basketball team where he spoke, joked, and shot baskets with the players.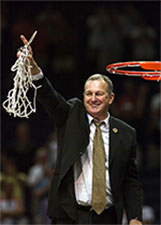 Representing the Amatuer ranks:
Jim Calhoun
Former University of Connecticut Hall of Fame Head Coach - Calhoun has used his success to champion many causes during his tenure at the University of Connecticut.  Having beaten cancer – twice, Coach Calhoun has devoted his time and money to help raise millions of dollars for cancer research and education.  In 1998, he and his wife established the Calhoun Cardiology Research Fund, donating $125,000 to the UConn Health Center.  Each year the Calhoun family host the Jim Calhoun Holiday Food Drive, which has raised over $1 million for the Connecticut Food Bank and Foodshare, providing over 1.6 million meals to families in need. Since 1994, Calhoun has served as honorary chairman for the Juvenile Diabetes Foundation, another example of his continued efforts to impact his community.  Jim Calhoun was inducted into the Naismith Memorial Basketball Hall of Fame in 2005.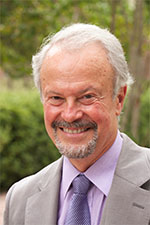 Representing the Grassroots ranks: 
Dr. Richard Lapchick
Often described as "the social conscience of sport," Lapchick became the only person named as "One of the 100 Most Powerful People in Sport" to head up a sport management program.  He remains President and CEO of the National Consortium for Academics and Sport and helped bring the NCAS national office to UCF. In December of 2006, Lapchick, his wife and daughter and a group of DeVos students formed the Hope for Stanley Alliance which is organizing groups of student-athletes and sports management students to go to New Orleans to work in the reconstruction efforts in the devastated Ninth Ward.  As of the fall of 2007, Hope for Stanley members have spent 19 weeks in the city in a partnership with the NOLA City Council.  Lapchick was named an honorary citizen by the New Orleans City Council in October 2007.
---
2011 Award Winners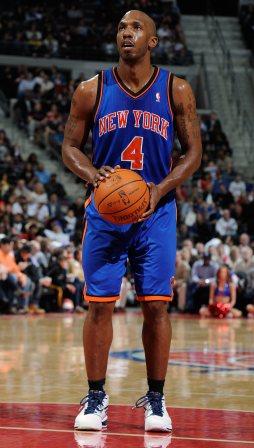 Representing the Professional game: 
Chauncey Billups
New York Knicks Guard - Known as one of the NBA's true community leaders, Billups has routinely left his mark in a number of cities where he played professionally. In 2006, the five-time NBA all-star began his involvement in the Porter/Billups Leadership Academy with Regis University in Denver by pledging $100,000 to the program which helps selected youngsters with life/educational goals and provides help with college tuition to attend Regis.  He also continues to be affiliated with The Children's Center, a charity that has helped enrich the lives of Detroit area youth since 1929 and served as the celebrity host of its Annual Celebrity Golf Classic.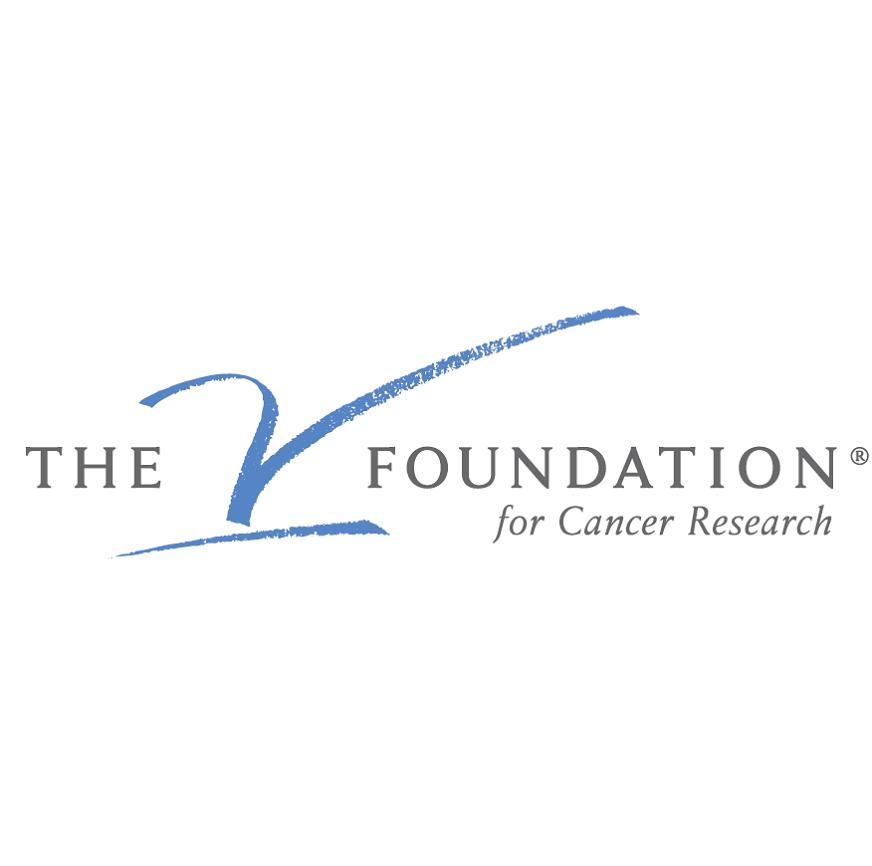 Representing the Amateur ranks: 
The V Foundation
Charitable Organization - The V Foundation for Cancer Research was founded in 1993 by ESPN and the late Jim Valvano, legendary basketball coach at North Carolina State.  During the past 18 years, it has raised more than $100 million and awarded cancer research grants in 38 states and the District of Columbia, with an astounding 100 percent of all new direct cash donations and net event proceeds to cancer research and related programs. The Award also recognizes the countless collegiate coaches and others in the game that annually make the V Foundation their priority charity as they assist in fighting cancer in their own communities.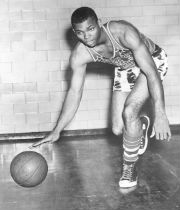 Representing the Grassroots ranks: 
Dr. John "Jumpin' Johnny" Kline
Former Harlem Globetrotter - As a member of the Harlem Globetrotters in 1950s, Kline was one of the original ambassadors in the game of basketball.  The All-American was the 1952 Athlete of the Year at Wayne State University and a finalist in the United States Olympic trials for track before he joined the Globetrotters.  During the 1960s, he fell into nine years of drug and alcohol addiction, however, he pushed himself to return to Wayne State where he earned his Bachelor, Master and Ph.D. degrees in history and philosophy of education.  He started his own company on health promotion and wellness and was appointed by Detroit's Mayor as Director of Drug Prevention Services where he served for seven years. He became the Director of Drug Free Schools and Communities for the Detroit Public Schools. In 1986, Dr. Kline developed the Youth Athletic Enrichment Program (YAEP) in Detroit's Middle Schools.  This after-school educational program is successful and continues today.  He also founded The Black Legends of Basketball in 1996, an organization that recognizes pioneers in the game of basketball.
---
2010 Award Winners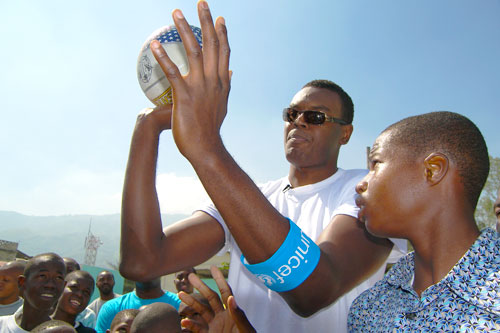 Representing the Professional game: 
Samuel Dalembert, Sacramento Kings center
A UNICEF national ambassador for Haiti who donated more than $125,000 to assist earthquake relief efforts in his homeland. In 2007, he started the Samuel Dalembert Foundation to help better the lives of people in Haiti. Dalembert, recently traded to Sacramento from the Philadelphia 76ers, was an active participant in NBA Cares activities while with the Sixers and he frequently participated in the Basketball without Borders program.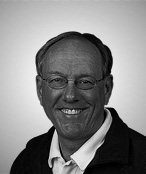 Representing the Amateur ranks: 
Jim Boeheim
Syracuse University head coach - A member of the Coaches vs. Cancer Council who has helped raise $2.9 million over the past nine years by conducting the annual "Basket Ball" Gala in Syracuse. Overall, he helped raise more than $4.5 million for the American Cancer Society. Boeheim volunteers his time and services to charitable organizations, including Crouse Hospital's Kienzle Family Maternity Center, the Children's Miracle Network, the Eldercare Foundation, the Make-A-Wish Foundation and the Special Olympics.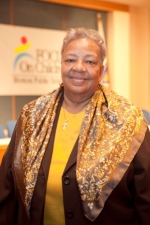 Representing the Grassroots ranks:
Alfreda Harris
Founded the SAT Preparation Program serving high school students in Boston while founding and coordinating girls' basketball leagues and AAU teams for the city.  Harris also founded the Owen Wells Fitness Center and the Reebok Educational Athletic Partnership that provides students with community programs in social development, computer skills and tutoring. Serves as a Board member for the Shelbourne, Mass. Community Council, Boston Neighborhood Basketball League and the Police Athletic League.
---
2009 Award Winners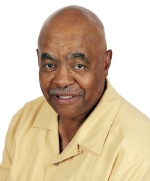 Ken Hudson
The former Vice President Marketing Development and Director of Community Relations for the Coca-Cola Company, became the first person of color to referee a city high school basketball championship (1967) and later became a pioneering NBA referee, officiating in the league from 1968 to 1972 as one of the league's earliest African-American game officials. He developed several Boston-area youth basketball programs and was named to the Board of Directors of multiple companies, including Coca-Cola's New England Board of Directors. He is currently an observer of officials for the NBA.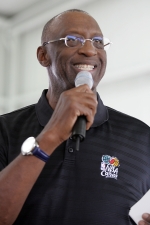 Bob Lanier
A 14-year standout in the National Basketball Association, was an eight-time NBA All-Star following his All-American career at St. Bonaventure. Lanier, the Most Valuable Player of the 1974 NBA All-Star Game, played just over nine seasons in Detroit and four seasons in Milwaukee. He received numerous community service honors, including the NBA's J. Walter Kennedy Citizenship Award in 1978. From 1989 to 2005, Lanier chaired the NBA's "Stay in School" program, NBA TeamUp Program and the league's "Read to Achieve" initiative. From 2005-to the present day, Lanier remains as the NBA Cares Global Ambassador and has earned numerous awards from the United States Congress to the National Civil Rights Museum Sports Legacy award, dedicated to the spirit of Dr. Martin Luther King, Jr. in 2007.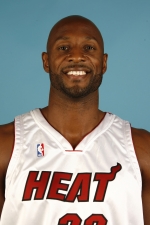 Alonzo Mourning
A 15-year NBA veteran who earned a league championship ring in 2006 as a member of the Miami Heat, has made as much of an impact off the court as he did when he played on the court in the NBA and as a member of the famed Georgetown Hoyas where he earned three-time NCAA All-American honors. Mourning contributed to gold medal-winning efforts by USA Basketball at the 1994 World Championship in Toronto and the 2000 Summer Olympic Games in Sydney.
Mourning was diagnosed with a kidney disorder following the 2000 Olympics and was sidelined (2002-03) after he received a kidney transplant. All the while, Mourning ran off-season community relations programs such as "Zo's Summer Groove" and "Zo's Fund for Life" where he's raised over $6 million dollars via the Alonzo Mourning Charities program. After the kidney transplant, the 2006 NBA title and his recent retirement from pro basketball, Mourning continued to be very active in the community and currently serves as a spokesperson for the National Kidney Foundation and the Ronald McDonald House Charities.
---
2008 Award Winners
Sonny Hill
Hill dedicated his life to youth basketball in the city of Philadelphia. For nearly 40 years, his leagues have been an outlet for inner city basketball in Philadelphia where he serves as an influential leader within the community. In 1968, Hill founded the "Sonny Hill Community Involvement League" which continues to provide youth with discipline, guidance and direction. The league runs each year with divisions ranging from middle school through adult divisions. He has received an honorary doctorate from Temple University and was named one of the 100 "Most Influential Minorities in Sports" by Sports Illustrated. Hill has also served as an executive advisor for Peter Luukko, President and CEO of the Wachovia Complex and worked television broadcasts for the 76ers in the 1970's. His leagues have provided thousands of kids an opportunity and his dedication and tireless efforts have led to Philadelphia becoming one of the best basketball cities in the country.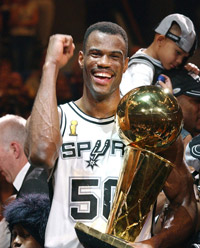 David Robinson
Robinson played his college basketball at the Naval Academy and his entire NBA career with the San Antonio Spurs, has had incredible success on the court with his two NBA Championships and 10 All-Star game appearances. Off the court, he has been a strong community resource for the city of San Antonio and the youth. He has founded and donated more than $9 million for the Carver Academy, a school in San Antonio as well as funded scholarship opportunities for youth that graduated high school. In addition, he annually donated 10% of his income to the "David Robinson Foundation" which supported two major projects; the "Ruth Project" which provided diapers and baby supplies to parents with need and to "Feed my Sheep" which offered food for the hungry. Robinson received the J. Walter Kennedy Citizenship Award from the NBA in 2003 and was the first athlete to receive the "Montblanc de la Culture Award."
---
2007 Award Winners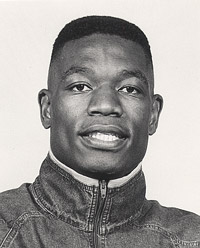 Dikembe Mutombo
A graduate of Georgetown University and a current NBA star who has recorded more than 3,000 career blocks. Of the court, Mutombo has given his time and himself to various causes including the United Nations Development Program. He has opened the Biama Mutombo 300 bed teaching hospital in Zaire, and established the Dikembe Mutombo Foundation for helping youth. Mutombo has also worked with NBA Basketball without Borders. He has received the Essence Magazine Achiever Award for philanthropic work and the Presidential Service Award for his work and contributions.