Liberty, Justice and Ball Podcast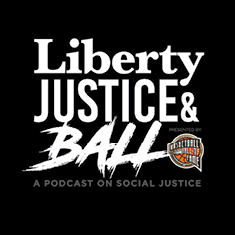 Liberty, Justice and Ball explores the intersection of basketball and social justice. 

Hosted by a unique team from Springfield College, where basketball was invented, Kris Rhim and Marty Dobrow bring their varying perspectives as a 21-year-old Black student and 60-year-old white professor respectively. They share a passion for hoops and social justice and will be exploring the experiences and viewpoints of Hall of Famers tied to both topics.
Starting with Grant Hill, episodes will be released every two weeks with guests such as Cynthia Cooper, Bob Cousy, Chris Mullin, Jerry West and Lenny Wilkens.
 Current Episode
4/1 Grant Hill