Liberty, Justice and Ball Podcast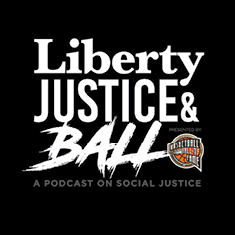 Liberty, Justice and Ball explores the intersection of basketball and social justice. 

Hosted by a unique team from Springfield College, where basketball was invented, Kris Rhim and Marty Dobrow bring their varying perspectives as a 21-year-old Black student and 60-year-old white professor respectively. They share a passion for hoops and social justice and will be exploring the experiences and viewpoints of Hall of Famers tied to both topics.
Starting with Grant Hill, episodes will be released every two weeks with guests such as Cynthia Cooper, Bob Cousy, Chris Mullin, Jerry West and Lenny Wilkens.
 Current Episode
6/30 Bernard King
Join us for the latest episode of 'Liberty, Justice and Ball,' where this week, Hall of Famer and New York basketball legend Bernard King joins the show. The four-time All-Star talks to the guys about growing up in the 1960s in the Big Apple, his playing career, racial tension he still races to this day, and much more!
 Past Episodes
6/09 Nancy Lieberman
On the latest episode of 'Liberty, Justice and Ball,' Hall of Famer and WNBA Pioneer Nancy Lieberman joins the show to talk about her basketball upbringing, her experience at the 1976 Olympics in Montreal, her relationship with the late Kobe Bryant, the difficulty women facing in landing men's basketball coaching jobs and much, much more!
5/19 Robert Parish
4/28 Spencer Haywood
4/14 Bob Cousy
4/1 Grant Hill