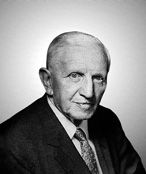 George H. Hoyt
George Hoyt was famous for saying, "Basketball is a game of science, not brute strength." A champion in developing a uniform set of rules and procedures, "Mr. Basketball" was known as New England's foremost basketball referee. Founded the Eastern Massachusetts Board of Approved Basketball Officials and the New England Interscholastic Basketball Tournament. Also served as Chief of Officials for the Eastern Massachusetts High School Tournament. For 34 years, Hoyt's talents were in demand. A tireless worker, he would often officiate two games a day at both the high school and college level. His style allowed a more open kind of play to develop; this prevented defensive holding and allowed more offensive flow. Hoyt authored The Theory and Practice of Basketball Officiating, a classic textbook that discussed many officiating distinctions, including the difference between Eastern and Western referees. Hoyt was one of the first officials to look at his profession systematically and to improve upon the technique through the process of critiquing himself and fellow referees.
Born
August 09, 1883
South Boston, MA
Career Stats
KNOWN
AS "MR. BASKETBALL"
THRU NEW ENGLAND
SERVED
AS CHIEF OF OFFICIALS
FOR EASTERN MASS.
HIGH SCHOOL TOURNAMENT
FOUNDED
EASTERN MASS. BOARD
OF APPROVED BASEKTBALL
OFFICIALS
AUTHOR
"THE THEORY AND PRACTICE
OF BASKETBALL
OFFICIATING"
QUOTE
"BASKETBALL IS A GAME
OF SCIENCE, NOT
BRUTE STRENGTH"
FOUNDED
NEW ENGLAND
INTERSCHOLACTIC
BASKETBALL TOURNAMENT