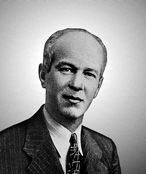 David "Dave" Tobey
Dave Tobey refereed nearly every important professional game in New York City between 1918 and 1925. In 1926, Tobey officiated Syracuse University versus West Point, a game that featured the great Vic Hanson opposing All-America John Roosma, two future Hall of Famers. Many coaches witnessed this important and well-publicized game and Tobey became much in demand. From 1926 to 1945, he officiated the first game to experiment with a three-man crew (Georgetown versus Columbia), the initial East-West game, three Army-Navy tilts, and countless Madison Square Garden events. Officiated in the Eastern Intercollegiate Conference, the Eastern Conference, the Ivy League, and in the National Invitation Tournament. Served on Executive Committee of the New York City High School Coaches Association and was elected as an honorary member of the International Association of Approved Basketball Officials. In 1945, Tobey announced his retirement to devote all of his time to teaching and coaching. After leaving officiating, Tobey was selected as one of the top officials of all time by a nationally recognized panel of sportswriters. Tobey wrote articles for Scholastic Coach and authored Basketball Officiating, one of the first books on the profession.
Born
May 01, 1898
New York, NY
Career Stats
1918-25
OFFICIATED EVERY IMPORTANT
PRO GAME IN NYC
ELECTED
HONORY MEMBER OF THE
INTERNATIONAL ASSOCIATION
OF APPROVED BASKETBALL
OFFICIALS
AUTHOR
"BASKETBALL OFFICIATING"
1st
OFFICIATED 1st GAME
TO EXPERIMENT WITH
A 3-MAN CREW
MEMBER
EXECUTIVE COMMITTEE OF THE
NYC HIGH SCHOOL
COACHES ASSOCIATION