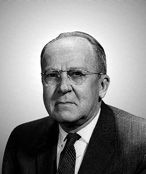 W.R. Clifford "Cliff" Wells
Born and bred in Indiana, a state known for its rich basketball tradition, Clifford Wells –coach, administrator, and avid promoter of the game – was so passionately involved in basketball that he was known as the "Dean of Indiana High School Coaches." He was one of the most respected basketball people during his time. His successful high school coaching career spanned three decades, during which time Wells coached teams that captured more than 50 regional, district, and invitational titles, including two Indiana state championships. Wells also served as head coach at Tulane University from 1945 until his retirement in 1963. The energetic executive director of the Naismith Memorial Basketball Hall of Fame also conducted countless clinics, wrote numerous articles, and was an active participant in the NABC, holding many administrative positions including president and executive officer. 
Born
March 17, 1896
Indianapolis, IN
Contributor Stats
KNOWN
AS THE "DEAN OF INDIANA
HIGH SCHOOL COACHES"
50
DISTRICT, REGIONAL AND
INVITATIONAL TOURNAMENTS
CAPTURED AS COACH
1st
PRESIDENT OF
INDIANA HIGH SCHOOL
COACHING ASSOCIATION
1963-66
FIRST FULL-TIME EXECUTIVE
SECRETARY AND DIRECTOR
BASKETBALL HALL OF FAME
MEMBER
NATIONAL RULES
COMMITTEE, 1952-56
1945-63
HEAD COACH
TULANE UNIVERSITY