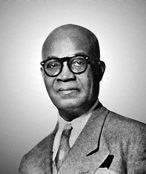 Robert L. "Bob" Douglas
Known as "The Father of Black Professional Basketball," Bob Douglas owned and coached the New York Renaissance from 1922 until 1949. Though racial discrimination was severe and unrelenting, Douglas kept his team focused. The Rens barnstormed from Boston to Kansas City and played any team – black or white – that would schedule them, including the Original Celtics and the Harlem Globetrotters. They often traveled as far as 200 miles for a game, were barred from many hotels and restaurants, often slept on the bus, ate cold meals, and frequently played twice on Sundays before returning to their home base. Despite these obstacles, the Rens became a dominant team, winning over 2,500games. Douglas's astute eye for basketball talent led him to such greats as Charles "Tarzan" Cooper and "Wee" Willie Smith. Through Douglas's leadership, the Rens were virtually unbeatable, winning 88 straight games in 1932-33. 
Born
November 04, 1882
Saint Kitts, British West Indies
Contributor Stats
KNOWN
AS THE "FATHER OF
BLACK PROFESSIONAL
BASKETBALL"
1939
WORLD PROFESSIONAL
CHAMPIONSHIP, RENS
1922-49
OWNER AND COACH OF
NEW YORK RENAISSANCE
2,500
GAMES WON WITH
THE NY RENS
88
STRAIGHT GAMES WON
IN 1932-33
200
MILES TRAVELED FOR
A SINGLE GAME