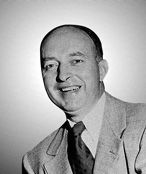 Edward S. "Ned" Irish
Originally a sportswriter for the New York World-Telegram, Ned Irish became known as "The Boy Promoter" by bringing college basketball to Madison Square Garden. On December 29, 1934, 16,188 spectators watched the first intersectional doubleheader when NYU defeated Notre Dame and Westminster College (PA) edged St. John's. Irish brought the nation's top teams to the Big Apple, and through his aggressive promoting and determined leadership, more than 500,000 fans flocked to the Garden per season from 1942 to 1949. Served a Basketball Director of Madison Square Garden in 1934. A man of strong integrity and honesty, Irish helped create the first major postseason college tournament, the National Invitation Tournament (NIT) and in 1946 was instrumental in organizing the Basketball Association of America (BAA), the forerunner of today's NBA. He founded the New York Knickerbockers, one of the league's original teams, earning the nickname, "The Father of Big-Time Basketball." President of the Knicks from their founding in 1946 until 1974.
Born
May 06, 1905
Lake George, NY
Contributor Stats
1934
director OF BASKETBALL AT
MADISON SQUARE GARDEN
FOUNDED
NEW YORK KNICKS
1946
28
YEARS AS PRESIDENT
OF NEW YORK KNICKS
1946-74
1946
INTEGRAL IN FORMATION
OF BASKETBALL ASSOCIATION
OF AMERICA
KNOWN
AS "THE BOY PROMOTER"
16,188
SPECTATORS IN ATTENDANCE
AT 1st INTERSECTIONAL
DOUBLE HEADER AT MSG