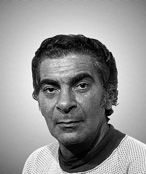 Marvin "Mendy" Rudolph
Considered by many to be one of the greatest officials of all time, Mendy Rudolph first began officiating alongside his father in the Eastern League back in the 1940s. Born in Philadelphia, Rudolph officiated 2,112 NBA games from 1953 to 1978. Rudolph was also selected to referee eight NBA All Star Games and at least one NBA Finals game for 22 consecutive seasons. Widely respected by his peers, coaches, and players, Rudolph authored the NBA Official's Manual and Case Book. With his charisma, personality, and iconic stature, Rudolph symbolized NBA officiating of the 1960s and 1970s to fans of professional basketball. The quality of his work became the standard by which NBA referees are still measured today. Rudolph passed away in 1979 at the age of 53. As a fitting tribute, Rudolph's uniform number 5 has not been worn by another NBA official since his passing. During the 1979-80 season NBA officials wore a patch with the number 5 on their uniform sleeves, in honor of one of the greatest officials to ever call a game.
Born
March 08, 1926
Philadelphia, PA
Career Stats
2,112
NBA GAMES
OFFICIATED
1st
REFEREE TO OFFICIATE
MORE THAN 2,000 NBA GAMES
NAMED
NBA
HEAD OF OFFICIALS
8
NBA ALLSTAR GAMES
OFFICIATED
22
CONSECUTIVE SEASONS
OFFICIATING NBA FINALS
AUTHOR
"NBA OFFICIALS MANUAL
AND CASE BOOK"