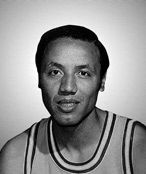 Leonard R. "Lenny" Wilkens
Fans of the late 1960s and mid-1970s remember Lenny Wilkens as a tenacious, hot-shooting guard who averaged double figures in 14 of 15 NBA seasons. Although Wilkens only began playing high school basketball his senior year, the quietly determined player still earned a scholarship to Providence College. At 6-foot-1 and 180-pounds, Wilkens was considered small by basketball standards, yet he made most All-America teams as a senior in 1960. Earning MVP honors in both the NIT and the East-West College All-Star Game, he then embarked on his NBA career, playing in 1,077 regular season games and averaging 16.5 points per game. When he retired in 1975, Wilkens ranked second on the NBA all-time assist list with 7,211 assists. Wilkens had the uncanny court sense to serve as a player and coach simultaneously, logging three seasons with Seattle and one with Portland before moving on to concentrate solely on coaching.
Born
October 28, 1937
Brooklyn, NY
College
Providence College
Professional Career
Atlanta Hawks
Cleveland Cavaliers
Portland Trail Blazers
Seattle Supersonics
St. Louis Hawks
Toronto Raptors
Career Stats
3x
NMBHOF INDUCTEE
'89 AS PLAYER, 98' AS A COACH
2010 MEMBER OF "DREAM TEAM"