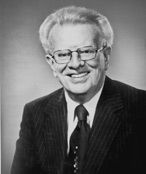 Lawrence F. "Larry" O'Brien
A former postmaster general, a special assistant to Presidents John F. Kennedy and Lyndon B. Johnson, the national chairman of the Democratic Party, and a native of Springfield, Massachusetts where basketball was invented, Larry O' Brien made the transition from politics to sports in 1975 by becoming the commissioner of the National Basketball Association. O'Brien's contributions to the world of basketball are enormous.  He spearheaded the merger of the American Basketball Association with the NBA, signed a lucrative television contract with CBS, negotiated an historic collective bargaining agreement with the NBA Players Association, and modified the college draft. Under O'Brien, the NBA expanded from 18 to 23 teams and in 1979 adopted the three-point shot. The league championship trophy is named after him. Although O'Brien spent most of his professional life outside the world of sports, his contributions and impact on basketball's continued welfare is his real legacy.
Born
July 07, 1917
Springfield, MA
Contributor Stats
1976
SPORTING NEWS
"SPORTSMAN OF THE YEAR"
1980
CREATED NBA COLLEGE
SCHOLARSHIP PROGRAM
1984
DEVELOPED ANTIDRUG
PROGRAM
1985-87
PRESIDENT
BASKETBALL HALL OF FAME
1975
BECAME NBA COMMISSIONER
NAMED
NBA LEAGUE
CHAMPIONSHIP TROPHY
AFTER HIM