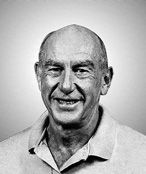 John T. "Jack" Ramsay
Jack Ramsay inspired greatness in his teams. A teacher, motivator, and true basketball aficionado, Ramsay created a lasting legacy at the collegiate and professional level. His preparation for games was impeccable and attention to detail extraordinary. A Jack Ramsay-coached team was always well-seasoned and well-drilled, exceedingly ready for the task ahead. Few could predict that when Ramsay began his coaching career at two Philadelphia area high schools in 1949 that he would lead St. Joseph's College to ten postseason appearances and retire with the second most wins in NBA history at that time. Ramsay coached four NBA teams, turning the expansion Buffalo Braves into one of the NBA's most exciting teams and rejuvenating the dormant Portland Trailblazers. Also the general manager of the 1967 Philadelphia 76ers,Ramsay's two coaching books, Pressure Basketball and The Coach's Art, are basketball classics. 
Born
February 21, 1925
Philadelphia, PA
Professional Career
Philadelphia 76ers
Buffalo Braves
Portland Trail Blazers
Indiana Pacers
Career Stats
9x
TOOK PORTLAND
TO THE PLAYOFFS
IN TEN SEASONS
1
NBA CHAMPIONSHIP
PORTLAND TRAIL BLAZERS
1977
2nd
WINNINGEST COACH
IN NBA HISTORY
AT RETIREMENT
10
POSTSEASON APPEARANCES
ST. JOSEPH'S COLLEGE
AUTHOR
"PRESSURE BASKETBALL"
AND
"THE COACHS ART"