COVID-19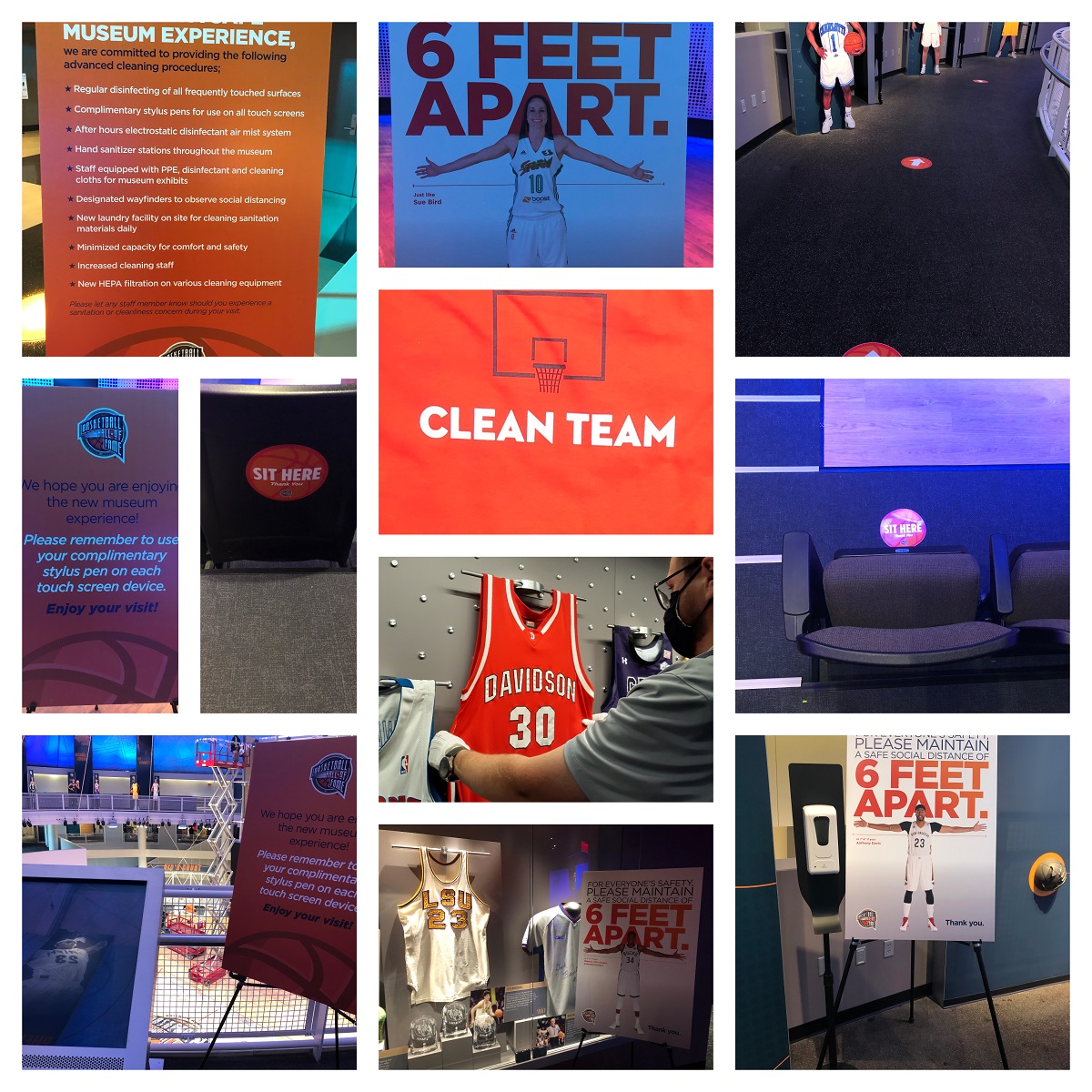 ---
The Hall of Fame is focused and committed to providing a safe, clean and healthy environment for all museum guests and staff.  As we continue to monitor the pandemic on an hourly basis, we have, and will continue to, meet with leaders in the government, attraction industry and various experts.  We are fully committed to not only abiding by, but exceeding the phased roll out and safety protocols that have been put in place throughout the state of Massachusetts.  
Along with our already advanced cleanliness protocols, we are committed to going above and beyond to ensure everyone's health and well being.  With that said, here are some additional measures that are being taken and will be implemented during your visit to the Hall of Fame.

Hourly sanitizing of all major touch points including handrails, door knobs, counter tops, bathroom faucets, elevator buttons and other highly touched surfaces
Dedicated "Clean Team" to focus exclusively on sanitation and cleanliness
Complimentary disposable face masks for all guests
New hand sanitizer stations spread prominently throughout the museum
Electrostatic disinfectant air mist backpack system 
Professional after hours sanitation and disinfectant services
Increased maintenance staff to work alongside the "Clean Team"
Hands free soap and paper towel dispensers being installed in all restrooms
New HEPA floor cleaning equipment for all carpeted surfaces
Plexiglass barriers at the box office 
Complimentary  stylus device to use on all touch screen applications throughout the museum 
New laundry facility on site for cleaning and disinfecting sanitation materials daily
Minimizing theater capacity with marked seats to facilitate social distancing guidelines
Sanitation of all theater seats after each showing
Designated foot traffic patterns to facilitate social distancing
Way finding signage to eliminate congestion and cross patterns of traffic
Social distancing reminders spread throughout museum
All museum staff will be equipped with PPE, disinfectant and a microfiber cleaning cloth 
Additional museum staff to continuously disinfect high traffic exhibits
Sanitizing of every basketball following guest use
Touchless ticket scanners to eliminate excess handling of your admission ticket
Timed entry and capacity restriction for museum admittance
In addition to these elevated protocols, we are sourcing opportunities for UV light disinfection systems, state-of-the-art air handling systems, and other health and safety products.
We will continue to update our procedures and sanitation methods as we remain diligent and adaptive to the ever evolving Covid-19 pandemic.
---
I'm getting ready to visit the museum!  What should I know about my visit?
Q: Are face masks mandatory?
A: Yes.  All guests over the age of two must wear a face mask to enter the museum unless you are prevented from doing so medically.  If you do not have a face mask, the Hall of Fame will gladly provide one for you at no charge.
Q: Must I adhere to social distancing once inside the facility?
A: Yes.  All guests must adhere to safe social distancing guidelines.  We know appropriate social distancing can be confusing.  But don't worry!  Upon entering, you will be greeted with social distancing signage, way finding arrows, instructions on appropriate places to sit and stand in certain areas, and gentle reminders along your visit.  We have you covered!  All you need to do is focus on having fun!
Q:  Can I pay with cash?
A: Yes.  However, all guests are encouraged to pay with either debit card, credit card, or purchase tickets in advance.
Q: What should I do if I, or someone in my group, doesn't feel well?
A: Please stay home!  We truly want you to experience our amazing new museum but only when you are feeling better.  We are taking an overwhelming amount of precautions to keep you, our guests, and our staff safe during these difficult times.  So we ask you to do your part as well and please don't enter the facility until you are feeling better.  Then, come have a ball!
Q: Will there be a wait to get in or a wait at any exhibit?
A: Possibly.  We will do our best to accommodate all visitation.  However, our facility will have new capacity restrictions that we must adhere to.  Once in the museum, one way traffic throughout the visit is mandatory and will be monitored appropriately by museum staff.  You may experience some modest wait times at our more popular exhibits.  But trust us, the new exhibits are worth the wait!
Q: I heard you have many new awesome touch screen experiences!  Due to COVID-19, I should not be touching those.  How can I still experience those exhibits?
A: You are absolutely correct!  The new touch screen exhibits are amazing!  We agree with you.  Please do not touch the monitors!  When you check in at the box office, our staff (which will all be wearing PPE) will be giving you a complimentary stylus pen device to use on all touch screens so you don't have to worry!
Q: Will your museum be clean?
A: Have no fear, our CLEAN TEAM is here!  Along with every staff member being equipped with PPE, cleaning cloths, and disinfectant spray, we have a dedicated team who will exclusively be tasked with focusing on cleanliness and sanitation.  You will see staff members cleaning the exhibits regularly, all heavy touch points will be cleaned regularly, and lots of amazing things are happening behind the scenes such as electrostatic mist treatments!  You have our commitment of a clean and safe experience!
Q: I forgot my hand sanitizer.  What do I do?
A: Lucky for you, we have many hand sanitizer stations throughout the museum.  Please be sure to use them often!
Q: I love shooting hoops!  But I'm concerned over sanitation of the basketballs.  Should I bring my own ball?
A: We love shooting hoops too!  We love being safe even more!  You do not need to bring your own basketball.  In fact, we don't allow outside items into the museum.  Upon entering Center Court, please see a staff member who will issue you your own fully sanitized basketball.  Please don't share it with anyone outside of your party.  Once you are done with it, please bring it back to the staff member you got it from and he/she will sanitize it so someone else can enjoy shooting hoops.
Q: With all these protocols, will I still have fun?
A: There will be no shortage of fun and learning!  We are excited to welcome you to the fully renovated Basketball Hall of Fame!
ENJOY YOUR VISIT!