Education and Outreach Initiatives
The Hall of Fame's educational programs reach youth across the nation in a number of ways and with a variety of different programs. Basketball is the perfect catalyst to teach in an entertaining, fun way that engages youth. The Basketball Hall of Fame has created a number of educational activities that connect the game of basketball with important areas of study like Math, Science, Geography, Social Studies, Language Arts, History and Health.
---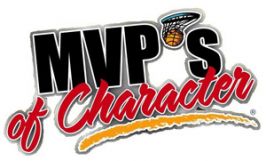 MVP's of Character
Thousands of youth have participated in the Hall of Fame's MVP's of Character program since its inception. The MVP's of Character program is held during the school year in Springfield, Massachusetts. It has also found it's way to major cities, like Washington, DC, Lawrence, Kansas and New York City to name a few. It could even come to your city.
Teaching youth about good character – both on and off the court – helps them understand the impact of it in their lives. Making good ethical decisions is the basis for discussion with the many guest speakers who have participated in the program. Character traits like honesty, respect, responsibility, integrity and cooperation create a foundation for success.
---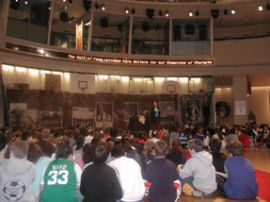 Education Mission at the Hall of Fame
The Hall of Fame's mission about education is to capture the attention and imagination of youth via their love and interest in basketball while providing learning tools and inspirational messages that teach in a fun and active learning environment.
At the Basketball Hall of Fame, we:
Enhance students' understanding of good character by promoting proven traits that will help them make good ethical decisions and lead them on a path to success
Inspire youth with stories of basketball celebrities who represent the traits of character that responsible and successful citizens would emulate
Educate youth to understand the relationship between self-discipline, athletic achievement, good moral character, and how they impact academic achievement
Apply useful life-skills education across a variety of subjects
---
Special Exhibits Gallery
The uniqueness of this gallery is the opportunity is provides the Hall of Fame to house temporary exhibits which entertain and educate visitors to Springfield. In addition, it is a beautiful room which serves a dual purpose – 1) housing special exhibits at the Hall of Fame; and 2) converts to a function room for business or social gatherings.
A number of special exhibits have been exhibited at the Hall of Fame, including but not limited to the Berlin Olympics of 1936, the World Golf Association (featuring the Women's Game, President's Game, 100 years of Golf), and "Something All our Own", Grant Hill's collection of African American art.