2019 Basketball Hall of Fame Golf Classic at Monarch Beach Golf Links
Hosted By Jerry West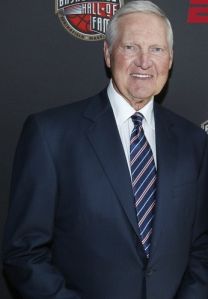 Jerry West was on the fast track to stardom from the day he touched a basketball. Throughout the NBA's storied history, it would be hard to find a better pure shooter.   As a senior at East Bank High School in West Virginia,  he became the first prep player in state history to score 900 points in a season, averaging just over 32 points per game on his way to leading East Bank to the state title.  Naturally, with his quick rise to local basketball stardom, he enrolled at at West Virginia.  
At West Virginia, West averaged 24.8 points per game and  led the Mountaineers to the NCAA Finals and captured the Tournament's Most Outstanding Player award in 1959. In a superlative senior season, West was a unanimous First Team All-America and led West Virginia to its third consecutive conference championship.  The following year in 1960, he and Oscar Robertson led the United States Olympic squad to a gold medal in the 1960 Olympic Games in Rome.  That team was enshrined into the Basketball Hall of Fame as part of the Class of 2010.  Still to this day, was arguably the best team ever assembled.  As one of the greatest players ever to play for West Virginia, he went on to become the second overall pick by the Minneapolis Lakers in the 1960 NBA Draft.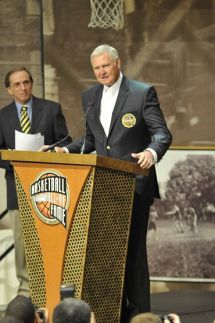 During his 14-year playing career with the Los Angeles Lakers, West became synonymous with greatness. He was the third player in league history to reach 25,000 points, an All-Star every year of his career and led Los Angeles to the NBA Finals nine times.   When the game was on the line, West's Los Angeles Laker teammates always found a way to get the ball to "Mr. Clutch." His cool, calm, and collected personality and his leadership on the court was a coach's dream. When he retired, West's name was on nearly every page of the record books. He scored 25,192 points (third), averaged 27.0 points per game (fourth), made 7,160 free throws (second), and dished out 6,238 assists (fifth). West was equally adept on the defensive end, named to the NBA All-Defensive First Team four times.
Following his unmatched playing career, that accolades continued.  West was enshrined into the Basketball Hall of Fame as a member of the Class of 1980.  After a coaching stint with the Lakers, he went on to serve as the General Manager and was the cornerstone to the rebuild of the Los Angeles Lakers back to their rightful status as one of the greatest franchises in sports.  As his time as general  manager, West can be credited for a number of pivotal moves.  None more pivotal than trading for Kobe Bryant, signing Shaquille O'Neal, and signing Phil Jackson to lead the team.  West built the foundation of what was to become a Lakers three-peat as NBA Champions.