Enshrinement Class of 2017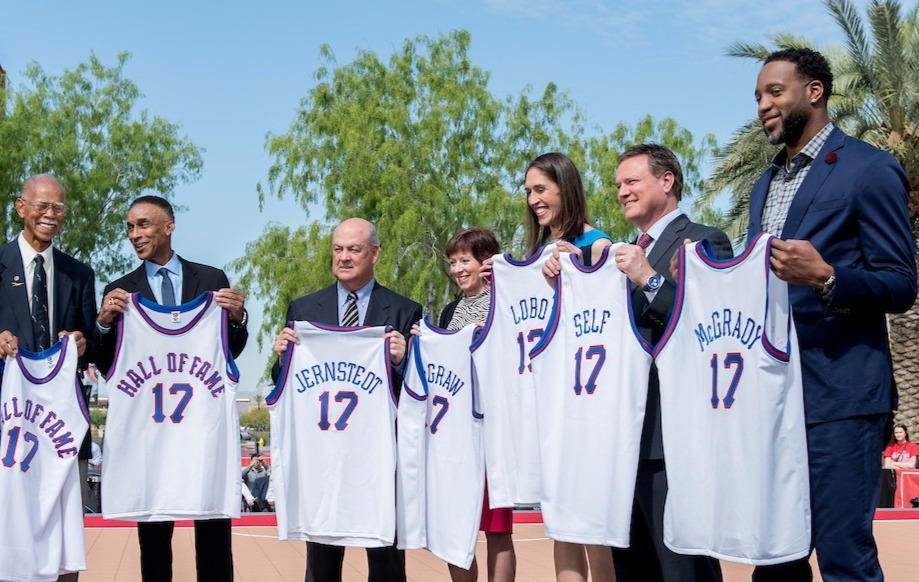 North American Committee:


ROBERT HUGHES [Coach] – Hughes coached high school basketball in Texas for 47 years and ranks first on the all-time wins list for boys' high school coaches. He has compiled an overall high school coaching record of 1,333-247 (.844) and led his teams to 35 district championships and five state championships. He served as Head coach of the McDonald's All-America Game West team (2001). Hughes was named the NHSCA National High School Coach of the Year (2003) and recipient of the Morgan Wootten Lifetime Achievement Award (2010). He has been inducted into the Texas Basketball Hall of Fame (1993) and High School Basketball Hall of Fame (2003).


TRACY MCGRADY [Player] – McGrady is a seven-time NBA All-Star (2001-2007) and a two-time NBA Scoring Champion (2003, 2004).  After being named the NBA's Most Improved Player in 2001, he was named to the All-NBA First Team in 2002 and 2003. In McGrady's 15 NBA seasons, he averaged 19.6 points, 5.6 rebounds, 4.4 assists per game and set an Orlando Magic franchise record for most points in a single game (62). He is regarded as one of the first impact players to make the jump from high school to the NBA. Internationally, he earned a FIBA America's Championship Gold Medal in 2003 and was named a Chinese Basketball Association All-Star in 2013. As a prep star at Mount Zion Christian Academy in Durham, North Carolina, McGrady was selected as a McDonald's All-American and the USA Today High School Player of the Year (1997).


BILL SELF [Coach] – Self is a two-time AP College Coach of the Year (2009, 2016) and seven-time Conference Coach of the Year (WAC: 2000; Big 12: 2006, 2009, 2011, 2015, 2016, 2017). He was named the Naismith Coach of the Year in 2012 and NABC Coach of the Year and USA Today National Coach of the Year in 2016. Self has compiled an overall coaching record of 623-93 (.763) during his time as the head coach of Oral Roberts (1993-1997), Tulsa (1997-2000), Illinois (2000-2003) and Kansas (2003-present). He is one of six coaches in NCAA history to lead three different teams to the NCAA Tournament Elite Eight and he guided Tulsa and Kansas to nine 30-win seasons. Self has led Kansas to 13 consecutive Big 12 regular season championships (2005-2016) and 14 straight NCAA tournament appearances, including an NCAA National Championship in 2008. He received the Mannie Jackson Basketball's Human Spirit Award in 2015.
Women's Committee:


REBECCA LOBO [Contributor] – Lobo, a native of Southwick, Massachusetts, was a member of the undefeated NCAA National Champion Connecticut Huskies (1995). That same year, she earned NCAA Final Four Most Outstanding Player, AP Female Athlete of the Year, the Wade Trophy, the Naismith Award, WBCA National Player of the Year and USBWA National Player of the Year. In 1994 and 1995, she was named Kodak First Team All-America, BIG EAST Conference Player of the Year, and GTE/CoSIDA Academic All-America First Team. Lobo earned an Olympic gold medal in Atlanta in 1996 and was an iconic player assigned to the New York Liberty when the WNBA formed in 1997. After six years in the WNBA, Lobo became an ESPN analyst for women's college basketball and the WNBA.


MUFFET MCGRAW [Coach] – McGraw is the only male or female three-time Consensus National College Coach of the Year (2001, 2013, 2014) earning the Naismith Coach of the Year, Associated Press College Basketball Coach of the Year, WBCA National Coach of the Year and USBWA National Coach of the Year.  She is also a seven-time Conference Coach of the Year with the East Coast Conference, North Star Conference, Midwestern Collegiate Conference, BIG EAST and Atlantic Coast Conference (1983,1988, 1991, 2001, 2013, 2014 2016). As the coach of Notre Dame women's basketball since 1987, she has led her team to 23 trips to the NCAA Tournament, including 13 NCAA Sweet Sixteens, seven NCAA Elite Eights and seven NCAA Final Fours (1997, 2001, 2011, 2012, 2013, 2014, 2015) with one National Championship in 2001. McGraw is one of four coaches in NCAA Division I history with 800 wins, seven Final Fours and five NCAA title games.
THE NAISMITH MEMORIAL BASKETBALL HALL OF FAME DIRECT ELECT MEMBERS:
Contributor Direct Election Committee:


MANNIE JACKSON [Contributor] – A former star for the Harlem Globetrotters (1960-1966), Jackson saved the Globetrotters from near extinction in 1993 when he purchased the team and became CEO (1993-2007). In doing so, he became the first African-American owner of a major international sports and entertainment organization. He revived the organization and led the team to record attendance and revenue growth. Jackson served as Chairman of the Board for the Naismith Memorial Basketball Hall of Fame (2007-2009) and is the namesake of the Mannie Jackson Basketball's Human Spirit Award. His biography, Boxcar to Boardrooms, details his rise from humble beginnings to professional athlete and successful businessman.


TOM JERNSTEDT [Contributor] – Tom Jernstedt is a basketball administrator credited with guiding the NCAA Men's Division I Basketball Championship to the elite sporting event it is today. In 38 consecutive years with the NCAA (1972-2010), he held numerous leadership roles including Executive Vice President, while being a liaison to committees focused on officiating and television negotiations, among others. With USA Basketball, he served as President (2001-2004) and Vice President (1997-2000). As one of the most influential figures in college basketball and college sports, he received the Basketball Hall of Fame's John Bunn Lifetime Achievement Award (2001) and USA Basketball's Edward S. Steitz Award (2009). Jernstedt was inducted into the College Basketball Hall of Fame in 2010.


JERRY KRAUSE [Contributor] – Jerry Krause was a professional basketball scout for several NBA teams, most notably recognized as the General Manager and Executive Vice President of the Chicago Bulls (1985-2003). Under his leadership, the Bulls won six world championships and became one of the most iconic teams in the history of sports. Krause was twice named NBA Executive of the Year (1988, 1996) and several members of the teams he assembled have been inducted into the Naismith Memorial Basketball Hall of Fame (Phil Jackson, Michael Jordan, Scottie Pippen and Dennis Rodman). Krause was the only person in history to be an executive in the NBA and Major League Baseball.
Early African American Pioneers Committee:


ZACK CLAYTON [Player] – Zack Clayton, recognized as one of the all-time great basketball players of the Black Fives Era, played for several all-black teams including his hometown Philadelphia Panthers, the Chicago Crusaders, and the renowned Harlem Globetrotters and New York Rens. He won two World Professional Basketball Tournament championships, the first in 1939 with the Rens and the second in 1953 with the Washington Bears. An enshrine of the Philadelphia Basketball Hall of Fame (1989), Clayton played on some of the era's greatest teams and was a featured star. He earned All-Tournament honors in 1939 and 1943 for his performances in the World Pro Tournament.
International Committee:


NICK GALIS [Player] – Nick Galis is widely considered the greatest basketball player in Greek history, in addition to being voted Greece's best all-around athlete in 1986 and 1987. He led ARIS of Thessaloniki to seven straight Greek League championships and eight overall (1983, 1985-91). Galis won a European Championship gold medal and European Championships MVP in 1987, while also taking home silver in 1989. He led the Greece A-1 League in scoring a record 12 straight seasons, averaging 33.4 points per game in his career. Galis was named one of FIBA's 50 Greatest Players in 1991, and is a member of the FIBA Hall of Fame (2007). He played collegiately at Seton Hall and was inducted into the Seton Hall Athletic Hall of Fame in 1991.
Veterans Committee:


GEORGE MCGINNIS [Player] – George McGinnis was a six-time All-Star during his professional career in both the ABA (1971-1975) and the NBA (1975-1982). He averaged 25.2 points and 12.9 rebounds per game in the ABA, winning two ABA championships with the Indiana Pacers (1972, 1973) and co-MVP honors with Hall of Famer Julius Erving (1975). He has since been named to the 30-man ABA All-Time Team. In the NBA, McGinnis averaged 17.2 points and 9.8 rebounds per game and earned All-NBA First Team in 1976. A native of Indianapolis, McGinnis was a powerful force at the amateur level as well, leading George Washington High School to an undefeated season and state championship in 1969, then going on to University of Indiana where he earned All-American distinction while averaging 29.9 points per game.