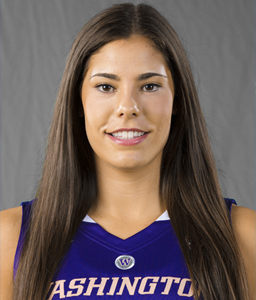 Kelsey Plum, University of Washington
DALLAS, TX – Yesterday at the Women's Final Four in Dallas, TX, the Naismith Memorial Basketball Hall of Fame and Women's Basketball Coaches Association announced Kelsey Plum from the University of Washington as the winner of the 2017 Nancy Lieberman Award. Now in its eighteenth year, the award recognizes the top point guard in women's NCAA Division I college basketball.
"Kelsey Plum has had a historic career at Washington as both an outstanding leader and scorer," said John L. Doleva, President and CEO of the Basketball Hall of Fame. "While her lights-out scoring ability has made headlines, she has also led her team in assists and provided the intangibles that are invaluable to a team's success."
Plum, a senior from Poway, California has had an exceptional, record-setting career with the Washington Huskies. During the 2016-17 season, she broke the all-time NCAA scoring record for women and men. She was named the Pac-12 Player of the Year, after earning All-Pac-12 honors for four consecutive years. In Plum's stellar senior campaign, she is averaging 31.8 points per game, while shooting 53 percent from the floor and leading the Huskies in assists. She is just the third player in NCAA to score more than 1,000 points in a single season.
"Nancy Lieberman is a pioneer in women's basketball much like Kelsey, on a smaller scale, has been a pioneer for us at Washington, on the west coast and in the Pac-12 Conference," said Mike Neighbors, head coach of the Washington Huskies.
"It is an honor for Kelsey and the University of Washington to be associated with a pioneer like Nancy, who blazed the way for future players, and hopefully Kelsey has done and will continue to do the same for today's youth."

 
The original watch list of 20 candidates was narrowed to 10 and then five before Plum was selected as the recipient of the award by a premier selection committee made up of top college basketball personnel including Nancy Lieberman and other Hall of Famers, media members, head coaches and sports information directors appointed by the Hall of Fame.
"With her combination of leadership and tremendous scoring ability, Kelsey Plum has become one of the most exciting players to watch in the game today," Lieberman said. "As a recipient of this award, she is in elite company and I appreciate the effort and determination to has put forth during her college career to achieve the numerous records she has set."
Previous winners of the Nancy Lieberman Award include Moriah Jefferson, Connecticut (2015-16), Odyssey Sims, Baylor (2014), Skylar Diggins, Notre Dame (2012-13), Courtney Vandersloot, Gonzaga (2011), Andrea Riley, Oklahoma State (2010), Renee Montgomery, Connecticut (2009), Kristi Toliver, Maryland (2008), Lindsey Harding, Duke (2007), Ivory Latta, North Carolina (2006), Temeka Johnson, LSU (2005), Diana Taurasi, Connecticut (2003-04), and Sue Bird, Connecticut (2000-02).